The Hall of Fame inductees represent a storied history of the excellent athletic program at Noble and Greenough School.
Click on an athlete, team, or coach below to read about their accomplishments.
1920's
Richard T. Flood '23
Class of 2014 – Hockey, Crew, Baseball
As a student at Nobles, Dick Flood was president of his class, a top scholar, an editor of the Nobleman, and manager of the football team. He loved sports and participated enthusiastically wherever the opportunity or team needs presented themselves. As the 1923 yearbook explains: "Dick made a good goal-tender for the Hockey Team, and when he grew too heavy to cox the crew, he took up baseball and made a name for himself in that line."
Dick returned to teach and coach at Nobles in 1928. He became hockey coach in 1932, during the era when the team practiced and played on Motley's Pond and was subject to the whims of winter. In 1933, the ice conditions only allowed for three total games and not a single practice! In one game against St. Mark's, two players fell through the ice in front of their own bench. Dick's teams were frequently called upon to shovel the snow before practice or games, especially in 1948 when a record-breaking winter in Massachusetts made this task a daily responsibility. Despite having to clear nearly 90 inches of snow that season, the Nobles team was undefeated and won the league championship. During one stretch, between 1946 and 1956, the Nobles team did not lose a single game against Milton. Dick compiled an overall record of 138-54-21 during his career for a remarkable winning percentage of .697. In 1974 he was elected to The Massachusetts Hockey Coaches Hall of Fame. Dick, his two sons and three grandchildren participated in over 700 hockey games at Nobles. Although the sport of hockey at Nobles has evolved considerably from those early days, Dick is often credited with elevating the program at the school, leading it in many ways to its current state of strength in the ISL, in New England and even on our Olympic teams.
Dick joined the Navy following Pearl Harbor and served as a lieutenant commander teaching aerial gunnery in Florida. He returned to Nobles after the war in 1945 and served as Assistant Headmaster and Admissions Director, taught Latin and German, and chaired the History Department until he retired in 1971. He also contributed to Nobles through fundraising and is credited with starting the Annual Nobles Fund as well as starting The Bulletin, one of the early school publications directed toward its graduates.
Dick passed away in 1996, but his legacy remains alive here at Nobles and particularly in the hockey rink that bears his name. A legendary coach and school leader, he is an essential part of the history and the proud athletic tradition of this school.
Robert Summers '26
Class of 2010 – Football, Hockey, Baseball, Track
Robert Summers has been called "Nobles' greatest all-around athlete." He was the star running back on the football team, a captain of the hockey team, a world-class runner for the track team and a standout hitter on the baseball team. An extraordinary sportsman with unmatched speed and agility, Bob played four varsity sports and earned a total of 15 letters during his time at Nobles.
He was a standout runner and a lead scorer throughout his four years on the football team. In the winter, he split the season between hockey and the school's one-time track team, where he excelled at the 40-yard dash, high jump and the hurdles. During his senior year, Bob broke an interscholastic record and tied a world record in the 45-yard high hurdles in a Boston Athletic Association meet.
But hockey was Bob's first love. He was a top defenseman and averaged more than a goal a game during his two years as captain. In the spring, Bob was a four-year veteran of the baseball team and was elected team captain his junior and senior years. His running ability combined with his excellent throwing arm made him an ideal center fielder, but it is his batting for which Bob is most remembered. Over the course of his baseball career, he hit close to .500.
Gerard Cassedy '29
Class of 2011 – Football, Track, Hockey, and Crew
President of the Class of 1929, Gerry Cassedy received varsity letters in four sports at Nobles, including football in the fall, ice hockey in January and February, track in February and March and, finally, crew in the spring months.
He played on the football team for two years as a back, he was a key contributor on defense for the hockey team and he was very successful in the hurdles and the "600" on the track team.
Gerry was best known, however, as an oarsman. He rowed at Nobles for five years and made the Russell Cup crew his second year on the team. He was on an undefeated second crew during his third year, he stroked a successful crew his fourth year, and he was captain of the team during his Class I year. Richard T. Flood's The Story of Noble and Greenough School describes him as "the best known of Coach Terry's oarsmen" and "a great Nobles stroke." When Gerry continued his rowing career at Harvard, he "earned the name 'Killer' for the relentless pace he set in stroking Harvard to three wins over Yale." Gerry was inducted into the Harvard Hall of Fame in 1970.
1930's
Austin Harding '35
Class of 2011 – Football, Hockey, Baseball
Austin was a running and defensive back on the varsity football team. In baseball, he batted an average of .255 and fielded an average of .815 at shortstop in his Class I year. But it was on the ice where he became a Nobles legend. He captained the varsity team in 1935, demonstrating "stellar play and leadership" (Nobles Yearbook, 1935) and netting 17 goals and four assists.
At Harvard, Austin was elected captain of the freshmen hockey team and went on to lead the varsity squad in scoring each year with 30, 25 and 30 points respectively. He was the captain of the team during his senior year, when he also received the John Tudor Memorial Cup for the most valuable player and was named All-American.
Austin was inducted into the Harvard Hall of Fame in 1971. The tribute to him in the U.S. Hockey Hall of Fame Museum, into which he was inducted in 1975, reads: "One of the most memorable feats of Harding's career was his last game when he played 58 of the game's 60 minutes and scored four goals and three assists in a 7-4 victory [over Yale]…The Cambridge player attracted pro scouts, but World War II broke upon the scene precluding any venture in this direction." Austin served as a Commander in the U.S. Navy from 1939-1945.
1940's
Peter Garland '41
Class of 2013 – Football, Track, Baseball, Crew
The dominant Nobles athlete of the late 1930's and early 1940's, Peter Garland was revered by classmates and underclassmen for his athleticism, intellect and kindness.
The 1941 Classbook reads: "When the name Garland is mentioned, one automatically thinks of one of the finest athletes ever to attend the school." An incredible physical presence, taller and bigger than the other Nobles boys of the time, Peter captained two football teams through undefeated seasons in 1939 and 1940. The 1939 team was celebrated as the first to go undefeated since the school moved to Dedham in 1923. That season was summarized as follows: "Under the inspiring leadership of Peter Garland '41, the team displayed a spirit which enabled it to develop rapidly from very inauspicious beginnings in a matter to please Blue and White supporters and confound opponents beyond all expectations." In the fall of 1940, Peter's senior year, he once again played a critical role as the leader of the squad: "Fortified by the return of eight veterans and the inspiring leadership of re-elected Captain Peter Garland, the boys rose to new heights, and were able to produce repeatedly an impassible goal-line when the offense failed to 'click.'" At the end of the season, the outlook looked grim for the varsity in their final game against Milton. Peter came to the rescue — running 80 yards for a touchdown that turned the game in favor of Nobles for good and cemented the undefeated season.
Peter was also a track captain. Coach Dick Lewis said he was "best all-around track athlete I have coached." He earned 226 points in his track career, garnering 56 as a sophomore, an astonishing 102 as a junior, and 68 in his senior year. In 1939, Peter broke the shot put record in the Private School Meet and ran the 600 in 1.19.1, a new Nobles record. The following season, he broke his own shot put record with a heave of 54 feet. In a meet against Moses Brown, Peter "came through with a second place in the last race of the day, the 300, (shortly after having set a new school record of 5 feet, 9½ inches in the high jump), to clinch the meet 32-31." The 1941 Classbook explains: "More than one quarter of the total points won by the track team this year were due to (Peter's) efforts alone. Always first to arrive and last to leave the track each afternoon, Pete's superiority came mainly through tireless effort."
In the spring, he was a starting pitcher in baseball, hitting .300 in his sophomore year, but he shifted to crew for his junior and senior years. One afternoon in 1941, however, he left his boat to pitch the baseball team to a win against Belmont Hill. Although the first crew, on which Peter was the sole returning rower, did not find much success in the spring of 1941, the crew was remembered for its "determination and cheerfulness, in victory or defeat."
Peter's yearbook page tribute, written by his classmates, reads: "Rare indeed is the morning on which Pete cannot be found putting the finishing touches on his homework before school, for, unlike the rest of us, he has a knack for utilizing every spare moment. His greatest scholastic achievement this year was his 'Little Essay,' which received the top mark of 95%, amidst many groans of envy from the rest of English 1." Peter was beloved by his classmates, who referred to him as "our fair-haired 210-pounder."
Peter went on to Harvard, where he played end of the varsity football team and was a stand-out in track.
William Bliss '48
Class of 2010 – Soccer, Hockey, Crew
Bill Bliss was a six-time varsity letter winner and a two sport captain during his time at Nobles. The school's first organized soccer team was introduced during Bill's senior year. He was elected captain of that team and led the group to an undefeated season. It was his steady play, fine defensive work and strong leadership skills that guided Nobles in its opening season. He was a three-year member of the varsity hockey team and captained the team in his senior year. As an excellent defenseman, he served as the team's anchor on the blue line, and also possessed a strong offensive element in his game, adding six goals and six assists in his final year. That senior year squad was near perfect; the only blemish on the schedule was a 7-5 loss to the Harvard freshman team. Removing the Harvard game from the schedule, the Nobles team outscored its opponents 68-9 and trounced rival Milton Academy by a combined score of 16-0 in two contests. Bill was a part of a memorable era for Nobles hockey, during which time the squad went 22-0-2 against Milton. In the spring, Bill was two-time member of the first boat in crew; this boat went undefeated in Bill's senior year.
After graduation, Bill went on to Harvard, where he played varsity hockey and rowed. To this day, Bill continues to be a strong supporter of Nobles athletics. One of his fondest memories involving the school and sports was the Nobles Skating Association. When the Flood Rink was first built, Bill says, it was "the biggest babysitting service in Dedham on Friday and Saturday nights. On Saturdays from 8:00 am to 12:30 pm, a group of Nobles graduates including Steve Glidden, Beezer Almy, and others taught kids to play hockey. At one point, we had 150 kids and were turning others away. We got some future great hockey players going." Along with Elise R. "Butch" Wallace, Bill co-founded the Nobles Marathon Fund, the school's third largest endowed fund for scholarship (currently making it possible for six students to attend Nobles). Bill is also a devoted, long-standing member of the Graduates' Council.
Jack Carney '49
Class of 2014 – Wrestling, Football, and Crew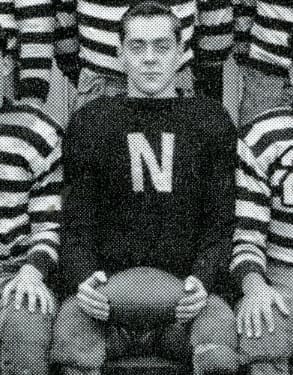 Jack was universally recognized as the class athlete during his years as a student at Nobles. His primary sport was wrestling, and he was undefeated throughout his three-year varsity career. In 1948, he led the undefeated team by pinning eight of his ten opponents, while winning the last two matches by decision. He was able to top that performance as a senior captain in 1949 pinning all eleven opponents he faced. One opponent lasted only 16 seconds against Jack. The Boston Globe called him "Automatic Jack," and featured him in a weekly piece throughout the season. Altogether, Jack finished his career with 20 consecutive pins. His best friend Charles F. Davis '49 recalled one wrestling match at Nobles against "a powerful, well-muscled opponent where the Headmaster, Eliot Putnam, was on his hands and knees beside the mat urging him on. He won that one too." He later competed in the Massachusetts regionals, which were open to anyone at any age. Jack admitted, however that "Mr. Storer is the only man I ever wrestled that I could not pin. I don't think I wanted to pin him, either." He was awarded the Wrestling Medal in 1948 and the Wrestling Cup in 1949.
Jack was captain of the football team, earning three varsity letters during his career. He was the clear leader of the team on both sides of the ball as the starting quarterback and middle-linebacker. Jack also amassed five varsity letters with the crew team in the spring. During his junior and senior years, he rowed the Second Crew to two consecutive undefeated seasons.
His page in the 1949 class book reads: "His suave manner on the debating stand, his phenomenal string of 20 consecutive wrestling pins, and his general congeniality are stellar examples to the lower classes. Jack is one of the most likeable members of his class, and his warmth and general good spirits have won him lasting friends among both the student body and the faculty."
Jack would eventually go on to play football at Middlebury College before serving in the US Air Force during the Korean War.
1950's
Dick Flood Jr. '53
Class of 2020 – Football, Ice Hockey, Baseball
Dick Flood Jr. '53 was a legendary coach who impacted the lives of many Nobles athletes. He spent nearly half a century on the Nobles campus, first as a student and later returning as a teacher and coach. Dick was a star athlete during his time as a student. He was the quarterback of the football team and the pitcher on the baseball team. On the ice, he centered the first line and was the league leading scorer his senior year. After graduating Nobles, Dick went on to play hockey and baseball at Williams College. In 1967, he came back to Nobles and coached the hockey team for 20 years and the baseball team for nearly a decade.
Bob Bland '58
Class of 2017 – Football, Hockey, Baseball
Bob Bland was a standout hockey goalie during the 1950's and an all-around great player collecting a total of eight varsity letters during his Nobles tenure. He was captain of the hockey team his senior year when he made 265 saves, allowed only 20 goals, and carried an impressive 93% save percentage.
During his Nobles hockey career, Bob's efforts in goal kept many games close and exciting. While describing a one sided loss to Andover, the 1956 yearbook claims 'only Bob Bland's excellent goalkeeping kept the score from climbing into double figures.' Indeed, the talented Andover squad gave Nobles significant problems throughout Bob's career. In his senior year, however, Nobles finally defeated Andover 5-3. The yearbook states, 'much credit for the win goes to Captain Bob Bland who made thirty saves and more than once prevented an Andover tally with his brilliant play.' Bob was awarded the Sziklas Hockey Bowl his senior year for his contributions to the program.
Bob followed up his hockey career at Nobles with four great years of play at Harvard. In 1961, Bob's junior year, he earned First Team All Ivy, All New England, and All East honors, as well as being awarded the John Tudor Memorial Trophy as Harvard's most valuable player. During his Harvard hockey career, Bob led the Crimson to two Beanpot Championships in 1960 and 1962. As a sophomore Harvard defeated Northeastern and Boston University to win the title and Bob earned the tournament's most valuable player award. He was again at the top of his game in 1962 as he held Boston College to one goal in the semifinals and held Boston University scoreless in the championship game. For his Beanpot play, Bob was inducted into the Beanpot Hall of Fame.
Following his career at Harvard, while on active duty in the Navy, Bob was permitted to participate in the 1964 U.S. Olympic Ice Hockey tryouts. Bob was selected to the Eastern Olympic Squad which played against the Western Olympic Squad over a two week period in St. Paul, Minnesota. Though Bob was not selected to the final team, he felt that the experience was a fitting conclusion to his hockey career.
1960's
Barry Treadwell '60
Class of 2010 – Football, Hockey, Baseball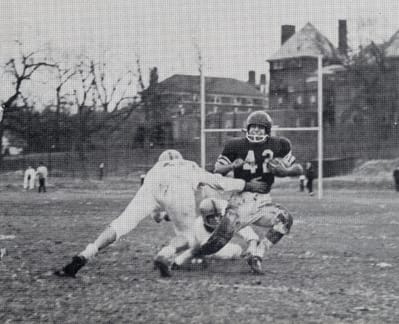 Barry Treadwell was a three-year varsity letter winner in football, hockey and baseball. In football, he played tailback for three years and was known for both his arm and his running abilities. His senior year he threw for six touchdowns and ran for four more. He was a standout on Motley's Pond in the winter and played a huge part in leading the 1959-'60 hockey team to a first-place finish in conference play. He finished his Nobles career with 31 goals and 18 assists, leading his team in scoring both his junior and senior seasons. In the spring, he was a two-time captain of the baseball team. He was the team's slugger and shortstop. In his senior year, his .386 batting average, 15 runs scored, and 19 runs batted in, led the team.
Beyond his impressive stats, Barry had a strong impact on his peers. Barry's 1960 classmates remember him as "the leader, a young man whose quiet determination, exemplary performance and conduct on the field of play, and devotion to sportsmanship, were an inspiration to those who played with him, even more than his evident athletic gifts."
He was captain of the Harvard freshman hockey team. In 1963, his Harvard varsity team beat Boston College 4-3 in double overtime to capture the ECAC Hockey Championship. He coached youth hockey in Massachusetts and Pennsylvania for many years and played hockey himself into his 50s.
Steve Owen '66
Class of 2010 – Football, Hockey, Baseball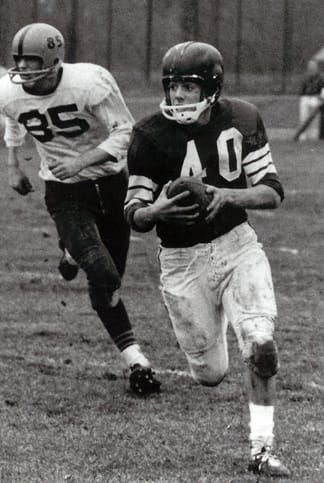 Pronounced the best Nobles athlete of the first hundred years of the school by Headmaster Elliot Putnam, Steve was a 12-time varsity letter winner in football, hockey and baseball. In football, he was the starting running back for four straight years. He also kicked, ran back kickoffs and punts, and played defensive guard. He finished his stellar career with 154 points, despite being hindered by an ankle injury most of his senior season. He was an incredible football player and hands down the best player in the League.
In the winter, he ruled the ice, centering the first line for three years. He led Nobles to an ISL championship his senior season and set a Nobles record with 64 points that year alone. He finished his remarkable career by setting the Nobles scoring record with 141 (76 goals and 65 assists). Steve's hockey play was tough and hard-nosed; he led his team in penalties twice during his four-year career.
In the spring, Steve dominated the baseball diamond (interestingly, he wasn't able to showcase his scratch golf talent because Nobles hadn't yet introduced a golf team). He started all four years at second base and also stepped in to pitch his senior year. He was one of the league's best hitters, batting third in the Nobles order for four straight years, and leading the league in home runs his freshman year. He hit over .500 in his senior season, going 5-5 in the last game of his Nobles career against Milton.
Collectively, Steve and his three sons, Steve '97, Chris '00 and Rob '07, played 46 varsity seasons for Nobles; remarkably, only two of the 46 teams had losing records. Steve went on to play hockey at Harvard, and he graduated as the third highest scorer in the school's history. It was in college where he got to show off his golfing talent as a member of the Harvard golf team. He also teamed up with his Nobles classmate, Skip Wood '66, to play paddle tennis; the duo was ranked number one in New England and fourth nationally.
Skip Wood '66
Class of 2016 – Football, Hockey, Tennis
Skip Wood was a standout athlete in three sports at Nobles, collecting nine varsity letters. In football Skip was an All-ISL, All-New England Defensive Cornerback for 2 years, helping lead Nobles to two 5-2 seasons. In hockey he accumulated 115 points over a three year career as a 1st line winger, culminating in an All-ISL selection his senior year and an ISL title. But Skip's best sport was tennis, where he was the captain and played in the #1 spot for two seasons. Not surprisingly, these combined honors earned him the ISL MVP.
In football Skip played cornerback and was always aligned to the wide-side, meaning that he had to cover the largest area of the field. He led the team in tackles and had an incredible 8 interceptions one year including three against Belmont Hill and two against Milton. Skip also played offensive end and led the ends in touchdowns. Skip absolutely loved football, enjoying the contact and the team camaraderie.
In hockey, Skip was known as the "Big Stick." He was a 3-year 1st line winger but often played defense in the biggest games. Skip and teammate Steve Owen were known as the Dynamic Duo and systematically destroyed every Nobles scoring record. In 1966, he scored 36 goals and 27 assists for a school record 63 points, and led Nobles to an ISL title with a 16-2-2 record. This was his favorite sport and he loved the speed, hitting, scoring plays, and teamwork.
Skip excelled at tennis. He was coached from a young age by Jack Barnaby, the famous Harvard tennis and squash coach. Skip dominated the ISL for four years. During his last two years he played #1 and was the ISL Most Valuable Player each year. In his entire 4-year career Skip never lost a singles match but one of Skip's proudest moments came when Nobles knocked off Milton his senior year. He felt his backhand was as strong or stronger than his forehand, and he exhibited endurance, speed, focus and tenacity on the court.
Skip went on to Colby College where he played three seasons of hockey. He was the highest scoring defenseman all three years and earned All-Division II honors his senior year. He also played #1 on the tennis team and was the Maine State Champion in a division with Colby, Bates, Bowdoin, and the University of Maine.
After college, Skip played hockey for two years in the NEHL on a very good Braintree Hawks team. He also played paddle tennis and was ranked #1 in New England three different years. Skip once again teamed up with his old Nobles hockey linemate Steve Owen '66 and rose to a #4 national ranking.
1970's
Greg Garritt '71
Class of 2013 – Football, Basketball, Baseball
Greg's relationship with Nobles began with his grandfather, Robert H. Garritt, who graduated from the Volkmann School in 1911. During his career at Nobles (1967-1971), Greg earned 11 varsity letters – three for football, three for basketball and five for baseball.
In football, teammates from Greg's 1970 ISL championship team remember him as the "greatest athlete we ever saw." In his junior year, he was named to the All-League team. In his senior year, he made both the All-League and All-New England teams. He set the school record for and led the league in four offensive categories – receptions, total yards and punt and kick-off return yards. Peter Kistner '71 adds, "He was incredibly talented and played several positions all very well…he was clutch when we needed it, the best receiver I ever saw, and he was famous for his one handed grabs." One of those spectacular catches occurred against Milton in his senior fall, helping the team to a 14-13 win that delivered the league championship to Nobles, just one year after finishing 0-7.
In basketball, Greg was a three-year starter at point guard. In his senior year, he was captain, led the team in assists and was named All-League.
Greg was also captain of the baseball team. When he was in the fifth class, at age 13, he was the starting pitcher and earned a record of 8-0. Skip Kistner '68, the catcher of that team, remembers: "Even then, he was the best pitcher I ever caught. His pitching was artistry." Greg played in the field when not pitching and was a fearsome hitter. He was named to the All-League team three times and, in his senior year, he received the James DeWolfe Lovett Medal. One memorable spring afternoon, in a 22-8 rout over Governor Dummer Academy and with a wooden bat, Greg belted out two singles, a home run and a first-inning grand slam into the hockey rink parking lot that is still remembered as one of the greatest hits in Nobles baseball history. In the same game, Greg pitched nine innings, striking out nine.
Rob Johnson '72 remembers that Greg was known throughout the ISL for his athletic ability, his mental toughness and his sportsmanship: "He was the one everyone at Nobles looked up to and that every opponent feared, but respected." Herbert G. Stokinger, a long-time coach and Athletic Director at Milton Academy, was quoted by the Boston Globe: "I've seen some great, natural, dominant, all-around athletes come through the PSL in my time and that kid Garritt of Nobles was among the best!"
People and relationships of all kinds were what mattered most to Greg; awards, honors, titles, achievements were ancillary. Reed Austin '71 remembers, "He was the consummate teammate, a mentor to the younger players and a leader by example to all."
After Nobles, Greg played football and baseball at Trinity College. He was also asked to play in the prestigious Cape Cod Baseball League and invited to try out for the New England Patriots as a non-drafted punter. Greg's athletic career ended prematurely when he was diagnosed with cancer. A two-time cancer survivor, Greg considers those victories the biggest of his life. Harry Blackman '71 wrote: "Greg handled it all with courage and grace. In all the years I have known him, he has never once complained about the cards life has dealt him. The spirit, verve and sheer strength that were part and parcel of who he was as an athlete – the greatest of our time at Nobles – all played a part in his recovery from cancer and in the life he has created going forward."
Derek Van Slyck '75
Class of 2010 – Football, Hockey, Lacrosse
Derek Van Slyck was a 12-time varsity letter winner and tri-captain in football, hockey, and lacrosse. In football, Derek played both running back and wide receiver. He helped lead the 1975 football team to an undefeated season and a 41-29 victory over Milton, its best season since 1951. He was voted an All-League performer in his senior season. In the winter, he received four varsity letters for hockey and captained the hockey team his senior year. He was a first-line hockey wing for three years and received All-Star recognition his senior season.
His best sport came in the spring, where he was a standout lacrosse player. He started on varsity all four years as an attackman and co-captained the team his senior year. He was All-League and was invited to play in the North-South All-Star game after senior year. He was the winner of the Nobles Shield.
Derek went on to Bowdoin College to play hockey and lacrosse, in which he set the all-time goal record with 165.
Bruce Weber '79
Class of 2012 – Cross Country, Track
Bruce Weber is recognized as the best runner of his time, both in the Independent School League and in New Englandprep schools, and the best ever cross country runner at Nobles. He was undefeated in cross country races in his Class I and II years with one exception; during a dual meet his senior year at Brooks on a badly marked course, he took a wrong turn and finished third. He later won the league championship easily on the same course. Under Bruce's leadership, the 1977 Nobles team was 10-0 and the 1978 team was 10-1; both teams finished second in the ISL Championship meet.
Although Nobles did not have winter or spring track, Bruce, with the full support of the Nobles Department of Athletics, competed in many non-ISL meets during the cross-country off-season. He placed in the top seven in invitational high school mile races at major meets such as the Penn Relays and the Eastern States Championships, and won the Dartmouth Relays high school mile. He entered prep competitions and was so successful that the Nobles "team," with Bruce as its sole member, finished third in the New England private school track championships his Class I year. He also encouraged Nobles to join the New England Track Association, making it possible for Nobles runners to compete beyond the ISL level (paving the way, in fact, for the 2011 girls cross country team that captured both the ISL and the New England Division I Championships). Bruce was extremely well-respected by all runners, at Nobles and elsewhere, in part because he was a superior athlete, but also because he competed with the grace and class of a true sportsman.
Former coach Nick Nickerson describes Bruce's impact on the Nobles cross country program: "He single-handedly changed and modernized the cross country program here. He came from a track family and was a technician of the sport. He took his training very seriously, paying attention to diet and other pre-game routines. In this way, he was ahead of his time as an ISL runner. Bruce was always talking with runners from other schools; he even suggested that Nobles train with Miltonon occasion so that Nobles runners would be pushed to become better. He clearly felt strongly about the camaraderie of running as a sport that required a tremendous amount of mental and physical effort."
Coach Bob Kern reflects: "I had the good fortune to marvel at Bruce Weber's running exploits during his senior year and my first year as a coach at Nobles. Watching him win week after week with such impressive times, in dual meets and ultimately in both championships, instilled great confidence in his teammates and coaches. In addition, Bruce helped turn our cross country team into a real program by providing suggestions for workouts and by modeling such a strong work ethic in his own training. He inspired his teammates to excel beyond their original expectations. Beyond his excellence as a runner, Bruce was the consummate sportsman, sharing credit for his successes, befriending competitors, and helping others find enjoyment in the sport of cross country. Time has taught me that runners like Bruce come along rarely in a coaching career."
Bruce went on to compete at Harvard, earning 10 varsity letters. He qualified for the NCAA cross-country championship his freshman year, and was on two teams that placed third in the 10-team Heps cross-country championships (which included the Ivy League colleges plus Army and Navy). In track, he set a university record of 8:12 for the indoor 3,000 meter run, won the 3,000 meter steeplechase for the combined Harvard-Yale team against Oxford-Cambridge, and medaled in several Heps and Greater Boston Championship meets.
Robert Alevizos '76
Class of 2016 – Football, Hockey, Baseball
Robert Alevizos was the standout athlete of the class of 1976. Recipient of the Nobles Shield, Alevizos received 8 varsity letters in his six years at Nobles, and was All-ISL in two sports. He was also selected by the ISL coaches as a High School All-American his senior year. He would go on to play four seasons of varsity baseball at Harvard where he was an All-Ivy and All-New England pitcher his senior year. He was drafted into the Chicago Cubs organization where he saw success at the minor league level.
Alevizos was a three year starter for the Nobles football team and Co-Captain as a senior. He was the quarterback for the famed ISL Champion 1975 team, which went 7-0. He was All-ISL his junior and senior year, and had a combined 17-2 record as the starting quarterback. He ran a combined triple option and drop back passing attack in one of the most prolific offenses in Nobles history. A true leader on and off the field, Alevizos provided not only his athleticism, but also his upstanding leadership, energy, and drive to the team.
Always the consummate competitor, Alevizos decided to try and walk onto the Nobles Hockey team in his senior year. By the time the season started, he was the starting goalie for the team, bringing his athletic prowess to the ice.
But Alevizos greatest sport was baseball. A four year starter at shortstop and pitcher, Alevizos dominated on the baseball field. He was a three time All-ISL player and an ISL champion his sophomore year. He captained the team as a senior and received the James Dewolfe Lovett Medal in 1976 for his outstanding play. That outstanding play caught the eye of Harvard where he played for four years. He led the Harvard baseball team to two Ivy League Championships in 1978 and 1980. His senior year was something to behold when he went 7-0 with a 2.13 ERA. To this day, Alevizos holds the single season win-loss record. Alevizos was drafted by the Chicago Cubs following his graduation from Harvard. He played brilliantly for one season, ending his professional career with a record of 4-1 and a 2.79 ERA.
Rick Pinderhughes '73
Class of 2018 – Football, Basketball
Rick Pinderhughes came to Nobles his sophomore year and dominated the field and the court during his three years here. He became known throughout the school and the ISL for his skills and by the time he graduated in 1973, he had a reputation as one of the finest athletes ever at Nobles. For his legacy, he is being inducted into the Hall of Fame Class of 2018.
On the football field, Pinderhughes distinguished himself and was recognized as a three-time All-ISL player. As a wide receiver, he had 14 touchdowns and 45 career catches for a total of 1011 yards, averaging 22.2 yards per catch. He was known for his speed, his skilled moves and his hands. Teammate Lewis Bryant '73 recalls, "In three years, Rick never dropped a single pass and was equally adept at running short routes and going deep." Pinderhughes' senior season, the 1972 football team had a record of 6-1, and Rick made 21 catches for a total of 503 yards.
As a basketball player, Pinderhughes earned three All-ISL awards during his years here, captaining the team his senior year. That year, he scored a total of 269 points, with 122 field goals and 31 rebounds, averaging 15 points per game. Pinderhughes was one of the top two or three guards in the league, according to Bryant, and was, "blessed with a perfect jump shot, extraordinary ball-handling skills, and great passing and defense." A highlight of Pinderhughes' basketball career includes leading Nobles to a totally unexpected upset win over league power Rivers his senior year, when he thoroughly outplayed their two all-league players. He started every game from sophomore to senior year, and was a dominant force from the very beginning. Pinderhughes was also the recipient of the Clarke Basketball Bowl, which was awarded for a player's contribution to team spirit.
Former Head of School Bob Henderson '76, who matriculated right after Pinderhughes graduated, recalls that Rick "was an athletic legend." He contributed greatly to the athletic program in both football and basketball. Bryant declares: "Pound for pound, [Rick was] perhaps the greatest athlete Nobles has ever produced, and his consistency as a performer in both sports bears that out. People came to games to watch Rick Pinderhughes do incredible things and he never let them down!"
Pinderhughes possessed all of the qualities of a Hall of Fame athlete: speed, strength, athleticism, smarts, a strong work ethic, a team player mentality, mental toughness and a desire to be great. He ultimately played basketball at Dartmouth College after Nobles.
1980's
Val Jordan Thompson '81
Class of 2010 – Soccer, Basketball
Val was the starting point guard for every game during her four years at Nobles, a remarkable stretch where Nobles went 47-4 in the regular season and 58-9 including all post-season tournament play. The ISL in girls basketball was only formalized in her junior year; both years, Nobles won the league title and Val was a unanimous All-League selection. Probably the best tribute that Val ever received was that in her junior year, Nobles lost 4 of the 5 starters by the time the team reached the New England tournament in March. Nobles made it to the finals thanks in large part to Val's terrific play, and she was named the Most Valuable Player of the tournament. Val was a co-captain of the team her senior year. She was also a four-year varsity letter winner on the soccer team, and she was the winner of the 1981 Nobles Shield.
Former head coach Nick Nickerson described Val's impact on the Nobles basketball program: "It is not often that your point guard takes the center jump at the start of each game, but that was the rare physical talent of Val Jordan. Her college coach, Kathy Delany-Smith at Harvard once quipped about Val: 'She can jump up, shoot the ball, and then type a term paper before she lands.' It is also not often that a coach will give a freshman guard the responsibility of running the offense, but that was the rare leadership of Val Jordan. Val had a great feel for the rhythm of a game – when to push the ball, when to settle things down, when to pass off, and when to drive in and make things happen. She was a player who could score at will when it was needed, but who derived more pleasure from a deft pass or a defensive stop. Above all, she was a fierce competitor who loved the camaraderie of a team. She had a great sense of humor and a terrific insight into people, and she made the journey of an athletic season a true joy for those who shared it with her."
After Nobles, Val went on to Harvard University to play basketball. She lettered there for three years and was voted co-captain her senior year.
Michael Uretsky '81
Class of 2010 – Football, Hockey, Baseball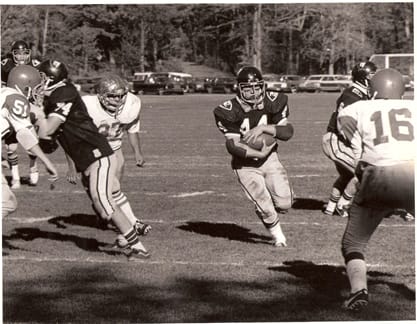 Michael Uretsky was a three-sport star earning 13 varsity letters at Nobles. In football, he was an intelligent and punishing runner with exceptional balance who seemed to get tougher every quarter. He was a four-year starter and averaged eight yards per carry over his career, rarely making a mistake in play and serving as a "coach on the field." Coach Nick Marinaro said that, in addition to being great running the ball, Michael was "the best lead-blocker I ever coached." Over his four years on the football team, Nobles won the school's first back-to-back ISL Undefeated Championships (14-0) and compiled a record of 23-5. He earned the Patriot Ledger's All Scholastic Award for football his junior year and was a perennial ISL All-League running back.
On the ice, Michael used his football mentality to be a force on both ends of the rink. He made the varsity hockey team in the eighth grade and lettered for five years. He traveled with the team to Sweden and Finland to play in the school's first international exchange game. He was a talented playmaker at forward, and he enjoyed defense on power plays. He earned All-League honors twice.
In the spring, Michael earned four varsity letters in baseball and captained the team his senior year. He was a very good hitter, a threat to hit a home run every time he stepped to the plate. His junior year he switched to catcher, never having played before, and performed exceptionally well. The last baseball game of his career marked his 206th game at Nobles in a varsity uniform.
Michael received the Elliot T. Putnam Football Prize in 1980, and in his senior year, the John Elliot Cooke Award. He was honored at Prize Day with the Davis Cup for "sportsmanship and consistent work in athletics." Perhaps the words from an a note Michael received from an anonymous teacher on Prize Day capture his career best : "I just want to say how much I have enjoyed knowing you…I believe that you are a legend at Nobles- we will not forget your work here…you are a winner!"
Clift Georgakalis '82
Class of 2010 – Football, Wrestling, Lacrosse
Clift Georgaklis is the best wrestler in the history of the Nobles program and the most winning wrestler in ISL history. In his time at Nobles, he won four consecutive Independent School League championships, four consecutive Graves Kelsey tournament championships, a New England championship, and in 1982, Clift's senior year, he won the National Prep Championship at 149 pounds. He is the only ISL wrestler to ever accomplish all of those feats. Clift finished his career with more than 100 career wins, a truly astonishing accomplishment, and he never lost a dual meet in his weight class in five years on the varsity team.
Along with his great wrestling abilities, he was also a great leader and captained the team his senior year. Steve Toubman has coached wrestling at Nobles for 29 years and has never seen a wrestler like Clift. Toubman says, "Clift merits selection to the first Hall of Fame class as one of the most accomplished athletes ever to participate in varsity sports at Nobles." Clift also played varsity lacrosse and football at Nobles.
He went to Yale to continue his wrestling career where he was one of the top wrestlers in the Ivy League. He was All-Ivy at 142 and 150 pounds with a 15-2 record in his MVP senior year.
Genie Simmons Thorndike '82
Class of 2013 – Field Hockey, Hockey, Lacrosse
Genie came to Nobles in the fall of her sophomore year, after playing three varsity sports in 9th grade at Winsor. At Nobles, she made an immediate impact on three varsity squads – field hockey, ice hockey and lacrosse.
In the fall, Genie earned three varsity letters in field hockey and, in her senior fall, she was named All-League after the team accumulated an impressive 9-2-1 record. Genie played fullback, holding the fort on the defensive end of the field with speed, tact and aggressive play.
Genie started playing hockey when she came to Nobles and emerged as a strong wing and a leader on the ice. A highlight was the 1980-81 season, in which the team accumulated a 10-0-2 record under the tutelage of head coach Mark Harrington.
In the spring, Genie took to the lacrosse field. She was an important leader on the field and the backbone of the team as the main defender down low, the Coverpoint. The Nobles team won the Independent School League title in both Genie's junior and senior years, and she was named All-League twice. A captain her senior year, she was awarded the Girls Lacrosse Bowl in 1982 and won the Miller Medal for excellence in scholarship and athletics at graduation.
When asked to reflect on her athletic career at Nobles, Genie explained: "My teammates and I were so proud to play for Nobles. Nobles had strong girls teams and we felt we could beat almost any team. I think we played with a calm confidence and great joy. Winning was not everything (although we often won), but we enjoyed the camaraderie of playing for a school we were proud of. I played defense in both field hockey and lacrosse, and I loved that challenge of taking the ball away or playing a top attack player out of the game. They don't usually keep stats for defense players, but I felt an interception was as exhilarating as a goal."
Genie went on to play ice hockey and lacrosse at Harvard. She was a four-time letter-winner in hockey and the captain of the varsity team in both her junior and senior years. Again, these accomplishments are even more remarkable when you consider that she started playing hockey in her sophomore year at Nobles. In lacrosse, she was also a four-year letter-winner and starter. She played on three Ivy League Championship teams (1983, 1984, 1985), and co-captained the team her senior year. She was second team All-Ivy in 1985 and first team All-Ivy in 1986. She received The Radcliffe College Alumnae Association Award in 1986, "awarded annually to that senior woman letter-winner, who, through outstanding ability on the playing field and dedication to her sport or sports and qualities of leadership, best reflects the purposeful achievement of Radcliffe Alumnae in every field around the world."
A three sport athlete and humble, thoughtful leader, Genie is an excellent representative of a storied era in Nobles athletics history.
Tom Welch '82
Class of 2011 – Football, Basketball Baseball
Tom is recognized as one of the most well-rounded athletes in the history of Nobles. During his high school career, he earned a total of 10 varsity letters, including three in football, four in basketball and three in baseball. He was captain of the football, basketball and baseball teams and won the Nobles Shield in 1982.
In football, Tom played defensive back as part of a terrific secondary and led the team to a 6-1 record his Class I year. A memorable game occurred in the fall of 1980, when Tom, then a Class II student, had four interceptions against Roxbury Latin, helping Nobles to prevail in the game by a score of 31-28. He was All-League in football twice.
In basketball, Tom ended his Nobles career with more than 1,000 points, the first Nobles player ever to do so, and had a career total of more than 400 assists. He was recognized by the ISL as an All-League player and received the Andrew N. Navoni Sportsmanship award. Coach Nick Marinaro called Tom, "Without a doubt the finest basketball player that Nobles has ever had," in an article in the June 9, 1982 edition of the Nobleman.
In the spring, Tom took to the baseball diamond where he was a three-year starter and shortstop. During his senior year he helped lead the team to a 10-2 record and in the two summers before and after his senior year, received All-Area honors playing American Legion Baseball.
Tom attended Bowdoin College after graduating from Nobles with distinction. He was captain of the Bowdoin basketball and baseball teams, earned a total of seven varsity letters and was recognized with multiple college awards for his leadership and sportsmanship.
Garcia Major '86
Class of 2011 – Football, Basketball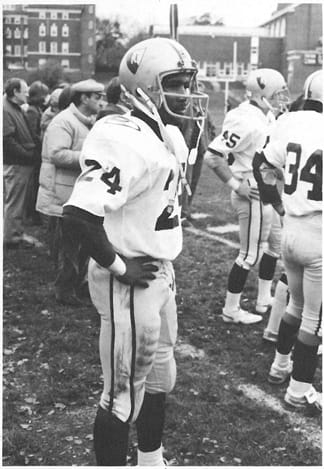 Garcia was twice All-League in football as a strong safety, and he played a large role in the 1985 undefeated, ISL championship season.
He was also All-League each of his three years on the varsity basketball team. During his Class I year, he co-captained the team to a 15-5 record, scored his 1,000th point and was the league's Most Valuable Player. Garcia was named to the 1986 Boston Globe All-Scholastic team and the High School Hoop Magazine Four Year Prep School All-Star 1st Team. He remains the second leading all-time scorer in Nobles boys basketball history (second to Courtney Sims '03).
In the spring of his final year at Nobles, Garcia was recognized as the school's most highly respected male athlete and was awarded the Nobles Shield.
Garcia became a four year starter on the varsity basketball at Williams College, where he helped lead the team to its first ever ECAC Division III Championship in 1987. He was recognized as an ECAC New England and NESCAC All-Star three times. He served as captain and was a Division III All-American in his senior year. He remains the second leading all-time scorer at Williams with 1,711 points. He is seventh all-time in assists at Williams, and he set the single game record for scoring with 47 points in 1987.
Steve Jordan '86
Class of 2011 – Football, Basketball
Steve came to Nobles as a Sixie in the fall of 1980 and went on to become one of the most influential and decorated Nobles athletes of that decade. His high school athletic career culminated in the fall of his Class I year, when he was tri-captain of the undefeated ISL Championship football team. He was named ISL Player of the Year and was a member of the Boston Globe All-Scholastic team. That fall, Steve also captained the East Team in the Shriners all-star high school football game.
Former head football coach Nick Marinaro describes Steve as the "most dominating football player I have ever coached." Twice named to the All-League team, he played defensive tackle and made 23 tackles in the 1985 Milton game (won by Nobles with a score of 38-12). In addition to his outstanding performance on the football field, Steve was also a strong contributor to the Nobles varsity basketball team.
In college, Steve played nose guard and defensive tackle for the Boston College Eagles football squad.
Jen Lane '88
Class of 2015 – Field Hockey, Tennis
Jen Lane was a two-sport star at Nobles during her four year career. In the fall, she played left wing on the Field Hockey team for three years. She also co-captained the squad during her senior year, but it was during the spring that she truly left her legacy as an all-time great Nobles athlete.
Lane was one of the best tennis players in New England as a freshman, reaching a #1 New England Lawn Tennis Association (NELTA) ranking in the 16 and under division. She continued to improve her game as the competition improved throughout her career, eventually attaining a #1 NELTA ranking in the 18 and under division as well. In her four years on the Tennis team, Lane was not only undefeated; she never lost a single set. Toward the end of her career, she preserved this impressive statistic by coming from behind in a set against Milton and surviving a late scare. This dominance earned her four All ISL and three Boston Globe All-Scholastic awards and winning one team ISL title in 1985. More than all of her awards and accomplishments, when asked about her years on the tennis team, Lane remembers, "Before any big match, Tim Carey gave out little knick-knacks; pebbles, acorns or other small objects. These were meant to serve as a calming influence to remind you that you were a part of the team and got you in the competitive spirit." Even years later, she has retained these keepsakes.
After Nobles, Lane continued her success on the larger New England and national tennis circuit. She was the New England Women's Tennis Champion in 1987, 1989, and 1993 and held a National #1 U.S. Tennis Association (USTA) ranking in the Women's Open division in 1989. That same year, she also won USTA National Open Women's Doubles Championships with Nobles teammate Katrina Greenman Driscoll '87. During this stretch, she also played in the number one spot in both singles and doubles for all four years at Boston College, eventually serving as the team captain her senior year. Lane qualified for the NCAA Singles Championship in 1990, and Doubles in 1990, 1991, and 1992. In recognition of her incredible career, she received the Boston College Heights Athletic Achievement award in 1992, which is given annually to the "Eagle who performs at an outstanding level in both the classroom and on the playing field." She was inducted into the Boston College Varsity Club Athletic Hall of Fame in 2001. At the time of her induction to the Nobles Hall of Fame, she was the Big East record holder for most career No. 1 flight titles.
Even having accomplished all of this, Lane maintains her "most important" tennis moment came in 2010 when she partnered with her father, Henry Lane, to win the USTA National Father-Daughter Ultra Senior Grass Court Championships. They entered the tournament once her father turned 80, meeting the minimum age qualification for the Senior division. It is his first and only USTA tournament, and proved that Jen Lane's tennis accomplishments are still ongoing.
Kim Hyland '89
Class of 2014 – Soccer, Hockey, Lacrosse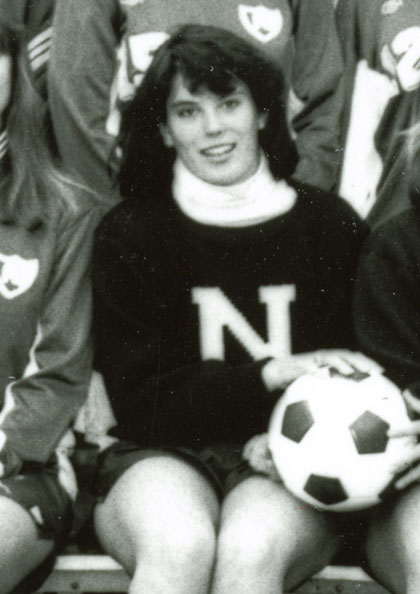 Kim Griffith Hyland was a five year letter winner in soccer during an era of dominance for Nobles girls in that sport. She co-captained the team to a 14-0-1 record and a fourth straight ISL Championship in her senior year. In her sophomore and junior years, the team went on to win New England Championships. During her upper school years at Nobles, Kim's soccer teams accomplished an astonishing accumulated record of 51-1-4. She won the senior bowl for soccer in 1988 and was a two-time All-League honoree. She also played two years of varsity soccer at Middlebury.
Kim played on the Nobles varsity ice hockey team for four years, winning an ISL title in 1988. She also went on to earn four varsity letters in hockey at Middlebury, co-captaining the team in 1992-'93.
In lacrosse, Kim was a skilled, strong and speedy attacker. She scored 68 goals her senior year and earned both All-League and All American honors. A three year varsity starter, she co-captained the team and won the girls lacrosse cup and was named a co-winner of the Nobles Shield in the spring of 1989. Kim went on to a great lacrosse career at Middlebury, where she currently holds the record for goals in a single game (10) and is tied for the record for points in a single game (12). She co-captained the Middlebury team in both 1992 and 1993, was a four year Brine All Regional honoree and a three year Brine All American. Her team won the ECAC Championship in 1991 and 1992. In her senior year at Middlebury, Kim was honored with The A. Bayard Russ '66 Memorial Athletic Award as "that senior who is most outstanding in two intercollegiate varsity sports" and who exemplifies "excellence of performance, aggressiveness, leadership, tremendous desire and team spirit."
Kim, congratulations on your induction into the Nobles Athletics Hall of Fame.
1990's
Martha Schneider '90
Class of 2010 – Soccer, Squash, Lacrosse
Martha was a three-sport captain and one of a very few graduates ever to win both the Nobles Shield and the Miller Medal for scholarship and athletics. In soccer, she received all-league honors in both her junior and senior year and was Independent School League MVP her senior year. During Martha's four years on the varsity soccer team, Nobles won four I.S.L. titles and the New England Championship in 1987.
Former varsity coach Tim Carey recalled: "I had the good fortune to coach Martha for several years. Her greatest quality as an athlete was her humility—she never quite believed that she was as good as everyone knew she was and told her all the time. But she would shrug off everyone and then go out and control a game or score an important goal, like the one that broke a tie against Milton in the waning minutes of her last regular season game for Nobles. She was one of the best athletes I ever coached." To no one's surprise, Martha won the Senior Bowl in soccer. She was also an Honorable Mention All-American in lacrosse in the spring of 1990.
Martha went on to play and captain soccer at Harvard.
Didzis Voldins '90
Class of 2015 – Football, Wrestling, Crew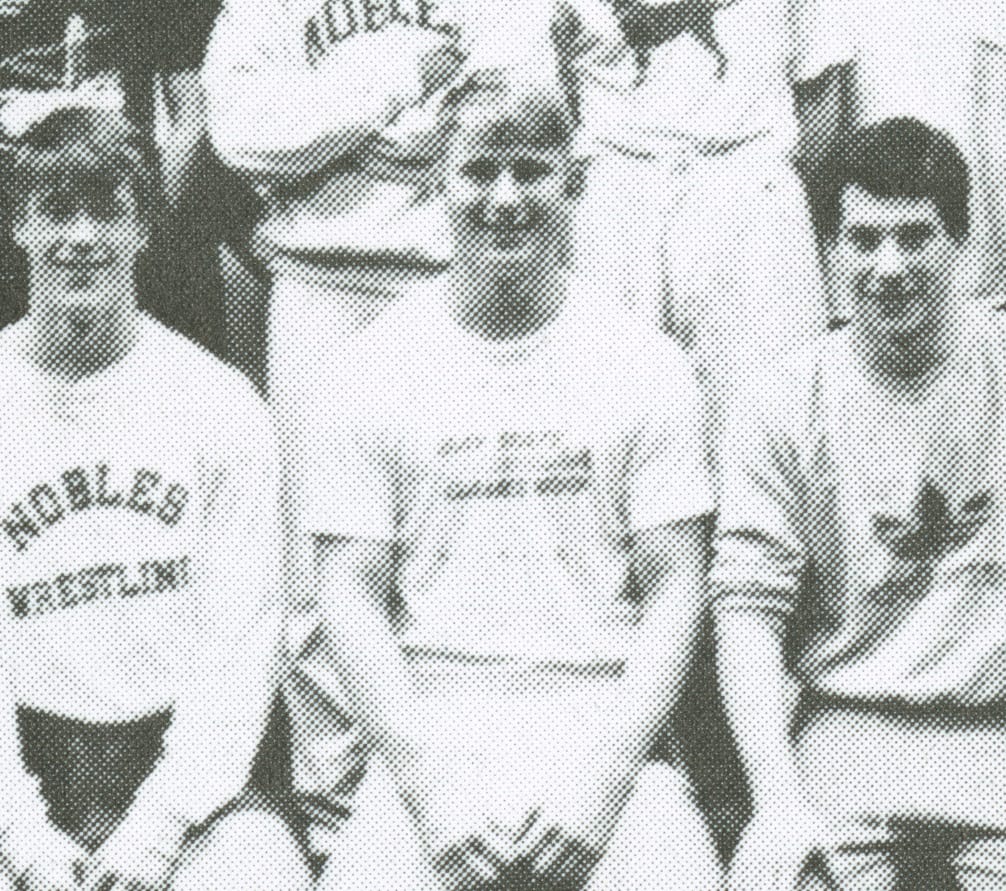 Didzis Voldins was a stellar three sport athlete at Nobles in football, wrestling and crew. During his senior year, Didzis captained all three teams and won the Nobles Shield. In football, he played four years as an offensive and defensive tackle and was All-ISL during his junior and senior seasons. In the fall of 1989, the team faced a challenging schedule and persevered with a 6-2 record including a last minute win against rival Roxbury Latin.
Didzis truly excelled in the winter and spring. In the winter of 1990, Didzis captured both the New England Prep and Graves-Kelsey titles in the prestigious heavyweight division. That same year, he was voted ISL Globe-All Scholastic following his Graves-Kelsey title and he was also honored with the Wilbur Storer Outstanding Wrestler Award during his senior campaign. Coach Steve Toubman remembers, "He is probably the most coachable athlete that I've ever worked with. His ability to make adjustments out on the mat was remarkable." Over his last two years, Didzis lost only one match and he was undefeated during the entirety of his senior season.
He is also among the best rowers the school has ever seen. In 1989, he competed in the (junior) World Rowing Championships in Hungary and again in 1990 in France. Didzis went on to row for Harvard all four years of college, and was a member of the First Varsity Heavyweight Crew at Harvard from 1992-1994. Harvard won the National Collegiate Rowing Championship in 1992 and as a member of the New York Athletic Club, Didzis advanced to the semi-finals in the coxed four at Henley Royal Regatta in England that same year. In 1994, he served as the Harvard Heavyweight Rowing Team Captain and competed in the (senior) World Rowing Championships. After Harvard, Didzis was invited to the US National Team Training Center for rowing from 1994-1995 to prepare for the 1995 World Championships and 1996 Olympic Games. He attended the US Olympic Festival in St. Louis in 1994 as a member of the U.S. Pre-Elite Rowing Team and won several medals before leaving the facility in 1995 due to injury.
While Didzis' rowing career is filled with impressive accomplishments, his proudest among them is the period of four undefeated years in the Harvard/Yale Regatta. Also known as "The Race," this annual battle is the oldest intercollegiate athletic event (beginning in 1852), and is significantly longer than a standard 2000-meter intercollegiate crew race. Perhaps this, above all, is why Didzis is also a member of the Harvard Athletics Hall of Fame.
Jill Havlicek Buchanan '91
Class of 2011 – Soccer, Basketball, Lacrosse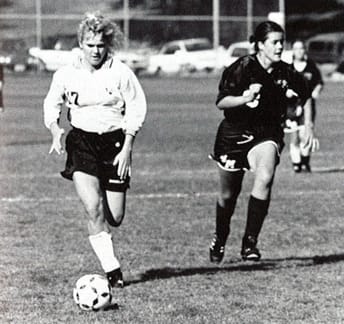 Jill came to Nobles as a Class III student and had an immediate and palpable impact on three varsity teams. She graduated with nine varsity letters and five Independent School League championships.
She helped the Nobles varsity soccer team capture ISL titles in 1988 and 1989 and was named All-League three times. She was an All-State selection and a Boston Globe All-Scholastic honoree in 1990. At the end of her Class I season, she was awarded the Senior Bowl for sportsmanship, ability and leadership.
Jill was All-League each of her three years on the varsity basketball team and a captain during her Class I year. Nobles captured the ISL championship in 1989, 1990 and 1991. She was twice named to the Boston Globe All-Scholastic team and was a New England All-Tournament selection in 1990 and 1991. She was awarded the Seadale Cup for contribution to the girls basketball program in 1991.
In lacrosse, Jill played three seasons and was named All-League twice. In her Class I and Class II years, she played on a New England All-Star team that competed in a national tournament. She was honorable mention All-American in the spring of 1991, when she also received the Bride Award for athletic excellence and sportsmanship in lacrosse. Not surprisingly, Jill won the Nobles Shield that same year.
After Nobles, she went on to the University of Virginia, where she was a three-year starter on the lacrosse team and captained the team her senior year. The team won the NCAA Division I championship in 1993, and Jill was All-South Region second team in 1995.
Anthony Ackil '94
Class of 2019 – Football, Wrestling, Lacrosse
Anthony Ackil '94 was a talented and respected leader on the football field and wrestling mat during his time at Nobles. He captained both sports and also played lacrosse. Ackil was looked up to by younger players and set an example of sportsmanship and leadership in the wider community. In the words of one underclassman, he was "the most respected leader of any team I have ever been on, both at Nobles and beyond." Ackil's reputation wasn't limited to athletics, as he was widely regarded as a genuine and kind-hearted individual in the schoolhouse as well. He earned the respect of his fellow students: "He didn't care if you were a starter, a JV player, or a freshman theater techie—he respected everyone." The oldest of four Ackil boys who graduated from Nobles in the '90s, the family was a fixture on the sidelines with their bulldog, Larry, serving as the unofficial school mascot for years.
Ackil was no stranger to adversity. He overcame a massive injury, forcing him to take off almost his entire junior year. Entering into his senior year, the football team had graduated a large portion of its players the year before. It would have been easy to assume the team would take some time to rebuild. However, Ackil led the 1993 football team to a 7-1 season and was a crucial part of almost all offensive and defensive plays, making nearly half of the team's tackles. His record as a wrestler was similarly impressive. According to Coach Steve Toubman, he "molded himself into one of the most dynamic wrestlers in Nobles' history." Ackil won the Graves-Kelsey Tournament heavyweight class in 1993 and was a finalist three other times. For Nobles his senior year, and for Choate in a post-graduate year, he captured two New England Heavyweight titles. In 1994 he was awarded the Jack Grinold Eastern Massachusetts High School Scholar-Athlete in Football and Most Outstanding Wrestler.
Ackil's love for athletics continued at the college level where he was a member of the varsity football and wrestling teams, earning five combined varsity letters. He was a member of the 1997 Harvard football team that won the Ivy League title.
Steve Owen Jr. '97
Class of 2010 – Football, Ice Hockey, Baseball
Steve was a stand-out three-sport athlete and tri-captain at Nobles, winning 13 varsity letters, including five in hockey. In football, he captained the team and was a two-time all-league selection. A running back, he scored 45 touchdowns in his career. In 1994, the football team won the ISL Championship and was the first Nobles football team to be selected for the New England tournament.
In hockey, he also served as captain and was honored twice as an all-league player. He was also a NEPSAC All-Star and the winner of the Sziklas Hockey Trophy. He finished his hockey career with a Nobles record of 201 points (67 goals, 134 assists) and only five penalties in five ISL seasons.
In baseball, Steve was a captain and team MVP, batting .500 his junior year and .400 over the course of his career. He was named All-League. Upon graduating from Nobles, Steve was honored with both the Nobles Shield and the Miller Medal.
A remarkable statistic is the exceptional record of his Nobles teams; out of 12 possible seasons, his teams had winning seasons in 11. In games against Milton, his teams went 16-2-1. Former Headmaster Dick Baker remarked, "As a Sixth Class student, he played on our fourth hockey team – already a man among boys. He might have scored 100 goals a game, but understood intuitively that he should not show off. He satisfied himself by feeding passes into his classmates where they could have a chance at scoring. That's unusual understanding in one so young, but it turned out to be a harbinger of his identity today."
Steve went on to Williams College where he was a four-year letter winner in hockey. His college team set school records twice for wins in a season, and Steve was awarded the McCormick Prize for spirit, character and leadership.
Kelly McManus Souza '98
Class of 2010 – Soccer, Hockey, Lacrosse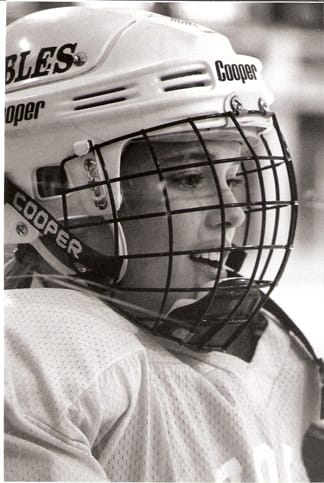 Kelly McManus was an incredible three-sport athlete during her time at Nobles. In soccer, she led the ISL in scoring her sophomore and senior years. In her sophomore year, she helped her team to the finals of the New England Class B Championship. Two years later, Kelly was voted captain and the team got another shot at the championship. This time, Nobles brought home the New England championship trophy. Kelly was awarded the Nobles Senior Bowl after that championship season. She was voted First Team All-League her sophomore, junior, and senior seasons.
In hockey, Kelly set the school record with 236 career points, and she was an All-League selection all four years of her career. She also participated in Olympic festivals during high school. Kelly was the captain at Nobles both her junior and senior seasons. In her final year, she was named the Most Valuable Player in the ISL, leading the Nobles team to an 18-2 record and a league championship. At the end of that season, Kelly received the Newell Cup.
In the spring, Kelly took to the lacrosse field, where she was a three-time All-League selection, a two-time All-American and the captain of the Nobles team in her senior year. She was named All-New England and led the ISL in scoring both her junior and senior years, with 58 goals and 61 goals respectively. Her All-New England team won the National Championship in 1997. Not surprisingly, Kelly won the Nobles Shield in 1998.
Kelly went on to the University of New Hampshire where, in her freshman season, she was named UNH's rookie of the year and earned ECAC all-rookie honors in hockey. She also played varsity lacrosse. After her sophomore year, she transferred to Boston College to continue her hockey career. She was named All-Conference in the ECAC, led her team in scoring for two seasons and captained the team her senior year. She earned the Boston College Leadership Award "given to an outstanding leader, athlete, student and citizen who best exemplifies the pursuit of excellence as a role model for other students."
2000's
Chris Owen '00
Class of 2020 – Ice Hockey, Golf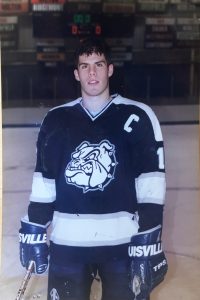 Chris Owen was a major contributor to Nobles hockey and golf programs, playing for five years on each team. Chris captained the hockey team his senior year and led the team to a successful season winning 21 games and finishing second in the league. He ended his career with 185 points – 72 goals and 113 assists, the second highest leading scorer in Nobles history. He was a two time all-league and all New England player. 
On the golf team, Chris was a four time all-league player and impressively held the number one spot on the team for five years. As an 8th grader, he won the ISL tournament and his freshman year, he led the team to their first ISL win in the history of Nobles boys golf. After graduating from Nobles, Chris went on to play hockey at Princeton.
Cam Marchant '02
Class of 2013 – Football, Hockey, Lacrosse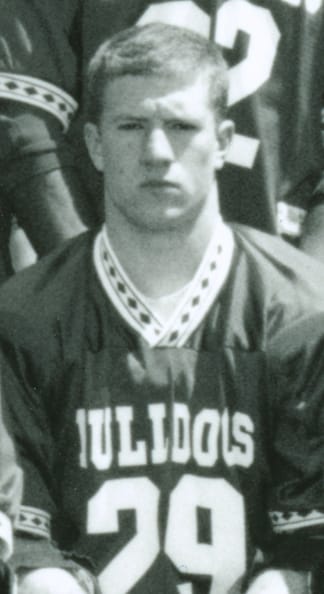 A three-sport captain and winner of the 2002 Shield for the most respected male athlete at Nobles, Cam was a stand-out in football, hockey and lacrosse. He earned 12 varsity letters at Nobles, including five in lacrosse.
In football, Cam was an All-League cornerback beginning in his sophomore year. He was a 3-year letter winner on varsity hockey as a forward, receiving the Sziklas Hockey Trophy for contribution to team spirit in both his junior and senior years.
In lacrosse, Cam was the first Nobles player to make the boys varsity team in the fifth class. He was an All-League selection for two years as well as the recipient of the Arnold Lacrosse Prize. He was selected to play in the NEPSAC East West All-Star Game his senior year. That spring, Cam led the team to an 11-3 record, one of the best lacrosse records in school history, and was nominated for All American. A defensive midfielder, Cam's play was characterized by speed, intensity, poise and tact.
Cam came into his senior year at Nobles as one of the most fit and well-conditioned athletes in the school, with high hopes and great expectations for himself and his teammates. He suffered a knee injury in the first scrimmage of the season that sidelined him for the entirety of the football and hockey seasons. His Shield tribute reads: "Martin Luther King said, 'The ultimate measure of a man is not where he stands in moments of comfort, but where he stands at times of challenge.' Undoubtedly, this was one of the biggest challenges Cam has faced. In response, he focused on what was needed to restore his knee to a condition to compete once again at a high level and, as importantly, what was needed to support his teammates. He recognized that his roles with teams were changed drastically. He listened and heeded advice, and then rose to the challenges in ways that generated even more respect from players and coaches than if nothing had happened."
Cam played varsity lacrosse at Cornell, where he was a co-captain his senior year. He was honored with the Mario St. George Boiardi leadership award, given to one senior male athlete and one senior female athlete, and the Richie Moran Senior Athlete Award, given to a senior athlete for "academics, athletics and ambassadorship."
Karen Thatcher '02
Class of  2012 – Hockey
During her hockey career at Nobles, Karen Thatcher tallied 222 points (116 goals and 106 assists). The varsity team won the ISL championship her Class III through Class I years, and she was named All-League all three of those years. During her Class I year, Karen was a tri-captain of the girls varsity team that went 27-0-0, winning the program's first ever New England Division I championship. Head coach Tom Resor explains Karen's place in the proud history of Nobles girls varsity hockey: "Karen was an amazing player whose combination of speed and power was unmatched. In her senior year, she scored 45 goals and had 43 assists for 88 points, and the team was the first and only unbeaten and untied Nobles team to win a New England championship."
Karen won the Bruins' John Carlton Award, was Hockey Night in Boston (HNIB) Division I Offensive Player of the Year in 2002, and was chosen for the HNIB All-Scholastic Team in 2001 and 2002.
After Nobles, Karen went on to a prolific hockey career at Providence College. She finished her college career 10th on the Friars' all-time scoring list with 167 points in 132 games. A transfer from Brown after her freshman year, she was part of Hockey East Tournament winning teams in 2004 and 2005. She also was named Hockey East Co-Player of the Year (2005), a finalist for the Patty Kazmaier Award (2005) and a Second Team All-American (2006). In addition, Karen earned All-Academic Honors and the Hockey East Sportsmanship Award in three-consecutive seasons.
In training for the 2010 Olympics, Karen played one season in the Canadian Women's Hockey League and two seasons in the Western Women's Hockey League, winning the League Championship in 2009 with Minnesota.
She was a four-time member of the U.S. Women's National Team, winning the International Ice Hockey Federation World Women's Championship in 2008 and 2009. In the Four Nations Cup, the National Team took home 2nd place in 2006 and 2007 and 1st place in 2008. In 2010, as a member of the U.S. Olympic team, Karen earned a silver medal in Vancouver. She contributed six points (three goals, three assists) in Team USA's five games, including two-point efforts against Russia and Sweden. Her plus/minus of +8 was tied for fourth on the team.
Since 2010, Karen has played for the Boston Blades in the Canadian Women's Hockey League while serving as an Assistant Coach of the Providence College varsity team.
Courtney Sims '03
Class of 2013 – Basketball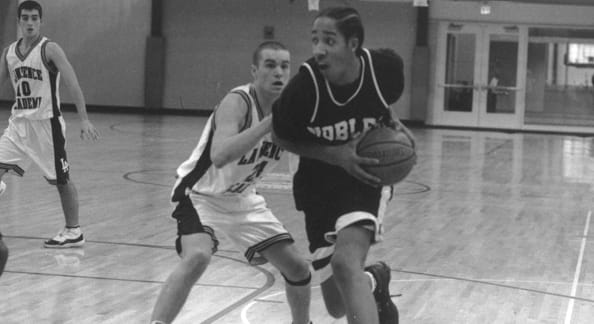 The best basketball player ever to attend Nobles, Courtney played center and forward for the varsity squad. In his senior year, the team finished undefeated in the league for only the second time in Nobles history. He led the team in rebounds and points; his average of 26.6 points per game led the ISL, and he finished second in the ISL in rebounding with 12.6 per game. Courtney received the 1983-84 Basketball Award, and he was co-MVP of the ISL and a Boston Globe All Scholastic. He scored his 1,000th Nobles point on March 1st, 2002, at the end of his second season at Nobles. Courtney was a finalist for the McDonald's All-American game and one of the top 25 at the Nike All-American camp.
Then head coach of the varsity basketball team, Michael Herring says, "He could step out of the perimeter and shoot the three. He was adept at posting up on the low block, and he could put the ball on the floor and go by defenders to hit the midrange shot. He had a complete offensive package."
Courtney also played one season on the varsity tennis team during his sophomore year. He was undefeated at 3rd singles and was considered one of the best high school players in New England at the time. The Nobles team was a runner-up at the New England championships that year.
After Nobles, Courtney went on to play basketball at the University of Michigan and continued to play professionally for the Indiana Pacers, the New York Nets, and the Phoenix Suns. Courtney played in Lativa for VEF Riga and is now playing for the Seoul SK Knights in the Korean Basketball League.
Jenna Gomez '04
Class of 2018 – Field Hockey, Softball, Basketball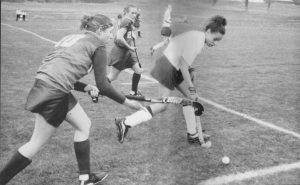 Starting when she entered Nobles as a sixie, Jenna Gomez made significant contributions to girls athletics and went on to become one of the most successful athletes to come out of the program. A rare five-time letter winner in field hockey, and six-time winner in basketball, Gomez also played softball for two seasons. Jenna's raw talent and innate sense of athletics both at Nobles and beyond is what makes her stand out as a Hall of Fame athlete.
Gomez was an All-ISL Field Hockey player her junior and senior years and co-captained her senior year, leading the team to a 13-2-2 season. While her stats are certainly impressive, Coach Maura Sullivan explains, "What made Jenna such a good player was all the intangibles' the things that stats don't measure.  She was an intense, talented athlete who was able to pick up a field hockey stick and immediately understand what to do with it.  Blessed with speed and game sense, she stepped onto the field and raised the play of everyone around her.  Jenna showed up every day ready to compete, because it was part of who she was.  She didn't know how to go half speed. It was all out or nothing."
Jenna dominated the basketball court, as a three-time All-ISL player and three-time All-New England player. As a senior in 2004, she won the title of ISL MVP and led her team to the ISL championship. She captained the team her junior and senior years and was named All-League. Jenna holds the title as the second leading scorer in the history of girls basketball at Nobles, totaling 1680 points in her career. Coach Alex Gallagher '90 remembers, "She was the driving force behind the rebirth of Nobles girls basketball. She made the team as a seventh) grader and was physically dominant throughout her time. She was wildly charismatic, an awesome teammate and (without a doubt) a Hall of Fame-worthy multi-sport athlete." Jenna's senior year, she was the recipient of the Seadale Bowl, given for her significant contribution to girls basketball. She was also named a New England Prep School All-Star and a Globe All-Scholastic player.
After Nobles, Jenna was recruited to play for Tufts where she was a three-year starter, and as the captain, led Tufts to the Division 3 College Final Four tournament in her senior season. She is joined today by family and by her daughter, Amari.
Becca Loucks Manrique '04
Class of 2019 – Squash
Becca Loucks Manrique '04, a rare six-year varsity athlete, was an elite, nationally ranked player who ushered the squash program at Nobles into the 21st century and was described as a "gutsy, grittily-determined competitor." During her career, she accrued a record of 49-23; 36-4 in her upper school years. She was on the All-ISL team from 1999-2004, and in 2002 and 2004 she was named the Boston Globe All-Scholastic Player.
Coach Deb Harrison remembers that Manrique "modeled passion for the game at its highest level, as well as [an unquestioned] commitment to the team, as a two-year captain. A bone fracture in her junior year kept her off the courts for the entire season, but as a consummate leader, she remained a constant presence, encouraging and coaching her teammates at practice and matches. She was awarded the Cutler Award in recognition of her excellence and her commitment to squash and to her team. Her skills and direction have been felt by the wider community as Deb Harrison describes that the "trickle down" leadership she provided as the Nobles program transitioned into its new facility.
In addition to Nobles, Manrique competed at the local, national, and international levels. As a U.S. junior player, she earned a national ranking at the elite level, as high as #7 in the country in her age group. After Nobles, She went on to play at Dartmouth. Her overall record at the collegiate level was 40-30, and she held upper-ladder positions, especially the top 2-3 during her last two years playing for Dartmouth. Manrique continues to compete in tournaments and recently competed at the state level in Colorado. In her words, squash is a "lifelong sport!"
Helen Resor '04
Class of 2014 – Soccer, Hockey, Lacrosse
Helen was a three sport varsity athlete and captain in soccer, hockey and lacrosse at Nobles. An absolutely dominant athlete in all three sports, she was an easy choice for the Nobles Shield in the spring of 2004 and is still remembered as one of the school's best pure athletes. It was on the ice, however, where Helen dominated on an entirely different level.
In her three years on the Nobles hockey team, Helen's teams went 73-4-3 and won three ISL titles and two New England titles in 2002 and 2004. In 72 career games played (she missed seven games her senior season recovering from a broken leg), she had 45 goals and 73 assists for 118 points as a defenseman. She was All-ISL three times and MVP of the New England Preparatory School Athletic Conference tournament in 2004. It was a combination of her toughness, powerful skating and game sense that set her apart. In fact, some believe that Helen's innate toughness was part of her game even in youth hockey, where she was rumored to have instigated a bench-clearing brawl while playing in a boys hockey league as a young girl.."
After Nobles, she played at Yale, where she was named a team MVP in 2009 and was a Finalist for the 2009 Patty Kazmaier Memorial Award for the best Division I women's hockey player in the United States. One of 13 Nobles Olympians, four of whom are women hockey players, Helen won a bronze medal in the 2006 Olympic Games in Turin, Italy.
Sarah Parsons Wolter '05
Class of 2015 – Soccer, Hockey, Lacrosse
Sarah Parsons is among the very best athletes ever to attend Nobles. A three-sport athlete, Sarah graduated with 13 varsity letters accumulated over four years of soccer, five years of ice hockey, and four years of lacrosse. While her scoring feats attracted attention, Sarah was an incredibly gifted two-way player who always put the team's needs first. Sarah led by example and was fiercely competitive and disciplined. She was a critical component in evolving the Nobles girls ice hockey and soccer teams from strong ISL teams to New England Division I champions, while representing the school with integrity and humility.
In her four years on the soccer team, Sarah amassed 85 goals and 25 assists, making her the school's all-time leading scorer. She was a three-time All-ISL selection, a two-time All-State and two-time All-New England selection. In those four years, the Nobles team went 53-7-5, winning two ISL Championships and a Class A New England Championship. She served as Captain her senior year and was the ISL MVP.
In the winter, Sarah dominated for five years and helped push Nobles into the national spotlight as home to one of the country's best ice hockey programs. During the five years Sarah played for Nobles, the team went 120-7-3, winning five ISL Championships. During this time, Nobles won their first New England Class A Championship in 2002, and then recaptured the title in 2004 and 2005. Sarah was a Captain her senior year, an All-ISL selection four times, ISL/Boston Globe league MVP in 2004 and 2005, and was awarded the John Carlton Memorial Award by the Boston Bruins her senior year for academic and athletic excellence. She played in 129 of 130 games during that stretch for Nobles, missing only one game as an 8th grader. In those 129 games, Sarah scored 222 goals and delivered 184 assists for a school record 406 points. While at Nobles, Sarah played for the USA Hockey Under 22 team, beginning when she was 15 years old as the youngest member of the team. She joined the USA Hockey Women's National team at age 17, again as the youngest member of the team.
In her four years on the varsity lacrosse team, Sarah scored 213 goals, and was named All-ISL three times. She played a huge role in the program's turnaround, leading the team to consecutive winning seasons, always near the top of the ISL.
One of her most valued accomplishments was winning every game in which she participated against rival Milton Academy for 6 years in 3 sports. Sarah completed her high school athletic career by being named the female athlete of the year (2004-05) with the Will McDonough Award by The Boston Globe. She also received the Nobles Shield in 2005.
After graduation, Sarah played on the US Olympic Hockey Team. At age 18, she was the team's youngest member. During the 2006 Winter Olympics in Torino, she scored four goals and three assists in five games, which was the eighth highest point total in the tournament. She earned a Bronze Medal for the United States. Sarah also represented the US in three IIHF Women's World Hockey Championships, earning a Silver Medal in 2007 and Gold in 2005 and 2008.
Sarah attended Dartmouth College, where her dominance on the ice continued. In 2007 alone, she was the Big Green Rookie of the Year, ECAC Rookie of the Year, first team all-league, and the Scoring Leader among rookies. In 2009, despite breaking her leg at the beginning of the season, Sarah was selected as the ECAC Hockey Tournament's Most Outstanding Player when Dartmouth won the tournament. In her senior year, she was the leading scorer in the ECAC, and was a finalist for the Patty Kazmaier Award as the most outstanding female college hockey player in the country. Sarah graduated as the eighth highest scorer in Dartmouth women's hockey history with 156 points. In all four of her years at Dartmouth, Sarah was on the All Ivy Academic team, and for her junior and senior years, was a finalist for the ECAC student athlete of the year. At her Dartmouth graduation, Sarah received the college's highest athletic honor, the Kenneth Archibald Prize, for being "the best all-around athlete, of great academic prowess and of high moral character."
Ayla Brown '06
Class of 2016 – Cross Country, Basketball, Softball
Ayla Brown was a three sport varsity star from the moment she entered Nobles as an eighth grader in 2001. That year, Ayla made the varsity Cross-Country team and made an immediate impact. She was named All-ISL and Class B All-New England. She was also All-ISL in 2002 and 2003. Ayla ran cross country under Mark Sheeran for four years. She also played softball from 2001-2005 and earned All-ISL and Class B All-New England as a first baseman. She loved cross-country and softball, but Ayla's heart has always been on the basketball court.
Ayla is the most dominant basketball player in Nobles history. She was one of the team's best players from the moment she joined the program as an eighth grader earning All-ISL and All-New England recognition all five years. Ayla was voted ISL MVP and Globe All-Scholastic her junior and senior year, and she was a two-time Gatorade Player of the Year in Massachusetts. She set two school records with 1,440 career rebounds and 2,358 career points. She is also the 6th highest scorer in Massachusetts history among girls and 13th overall. Those totals were limited during her senior year when she left to compete on American Idol, where she finished in 13th place.
Coach Alex Gallagher recalls, "Ayla is arguably the most ferocious competitor I have ever been lucky enough to coach. Her drive, her work ethic and her commitment to lead our program left a lasting legacy that is hard to put into words. Her accomplishments continue to attract strong student-athletes to Nobles and for that we will be forever grateful." She was also a two-year captain and won three straight ISL Championships starting in her sophomore year. Those three titles began a streak of 13 straight titles that continues to this day.
After she graduated from Nobles, Ayla continued her basketball career at Boston College. Much like the beginning of her career at Nobles, she made an immediate impact tallying the second highest points-per-game total on the team. She played and started all four years at BC accumulating 880 points and averaging 5.2 rebounds per game. During her time at Boston College she was named to the ACC All-Freshman Honorable Mention Team, and was an ACC All-Academic player.
Mark Fayne '06
Class of 2016 – Football, Hockey, Lacrosse
Mark Fayne was a varsity athlete in 8 of his 9 seasons at Nobles, earned All-ISL recognition in three sports, and was the recipient of the Nobles Shield. He would go on to play four years of Division I College Hockey for the Providence Friars before embarking on an NHL career that continues to this day. While Fayne is most often remembered for his remarkable abilities on the ice, his contributions to the Football and Lacrosse teams proved his raw athletic ability was not specialized. In all three sports, he was always at his best against the best opponents and proved to be a true team player when each team needed him the most.
While he was brand new to the game when he first joined the football team, Fayne would go on to establish himself as one of the best receivers in the ISL. Over a five game stretch in 2004, he pulled down 34 catches for 632 yards and 7 touchdowns. Coach Bob Moore remembers, "We looked to him as one who could make the big play in crucial situations, and he did." In addition to playing both offense and defense, he terrorized opposing returners as a gunner on the punt team and blocked several extra points over the course of the season. He was the recipient of the E.T. Putnam award as the team's MVP by a team vote.
In his three seasons with the Lacrosse team, Fayne was Nobles' #1 defenseman, meaning he was responsible for covering the other team's best offensive weapon. He relied on sound fundamentals and deceptive speed to frustrate and eliminate the opposing threat. His senior year, he stepped up to the midfield where he scored all of his 12 goals against opponents who would eventually finish in the top five in the standings. Those big-game performances were crucial to the two ISL titles the lacrosse program won during his junior and senior years.
Fayne was also part of two ISL champion hockey teams and was All-ISL both years. He was All-New England his senior year in hockey and was voted the ISL MVP. While he amassed 10 goals and 24 assists that season, Coach Brian Day contends, "Mark was just always in the right place at the right time. We counted on him in the biggest moments in the biggest games to get the job done." Fayne went on to play four years for Providence College and made the All-Hockey East Rookie Team as a freshman. Upon graduation, he entered the New Jersey Devils organization where he played only 16 games for their AHL affiliate in Albany before being called up to the NHL. He played five seasons for the Devils highlighted by their Stanley Cup finalist run in the 2011-2012 season where Fayne finished 5th on the team in time-on-ice. He is currently a top line defenseman for the Edmonton Oilers.
Leanna Coskren '07
Class of 2017 – Field Hockey, Hockey, Softball
Leanna Coskren was a tremendous three sport varsity athlete throughout her time at Nobles. Playing field hockey, hockey, and softball, Leanna was able to dominate the competition no matter the sport. Collecting nine varsity letters in four years, she was the recipient of the Shield Award her senior year.
Leanna was a standout hockey player during her time at Nobles. Making the varsity team her freshman year, Leanna was an immediate impact player for the Bulldogs. Over 91 games, Leanna scored 41 goals and had 66 assists for a total of 107 points. She was named All ISL as both a junior and a senior, and was the captain of the team her senior year. She is a four time ISL Champion and a two time NEPSAC Division One Champion. Nobles coaching legend, Tom Resor, has the highest praise for Leanna saying she was 'one of the best players to ever play hockey for Nobles.'
Following her successful freshman hockey season, Leanna made the varsity field hockey team her sophomore year even though she had never played the sport before. Maura Sullivan, the field hockey coach, stated that Leanna 'was one of those freak athletes who could just walk onto a field and dominate.' Leanna was All ISL in field hockey her junior and senior years.
Leanna spent the spring season on the softball field playing at the varsity level her junior and senior years. She was once again named All ISL her senior year in softball managing to win that honor in all three sports during her final year at Nobles. There was no questioning the fact that Leanna was one of the best athletes in the ISL during her tenure.
Leanna continued her career on the ice playing at Harvard for four years. She was named captain her senior year. While at Harvard, her team won two Beanpot championships. She also led the team in assists her senior year with 18.
Robert Owen '07
Class of 2017 – Football, Hockey, Lacrosse
Rob Owen was a twelve season varsity athlete, playing on the varsity lacrosse team starting in his eighth grade year. Rob is, unequivocally, the greatest lacrosse player Nobles has ever seen. He is the all-time leading scorer in ISL lacrosse history, amassing 319 points (215 goals and 104 assists) over his five years in the league, surpassing the previous school record by more than 100 points. Rob also had four stellar years for the Nobles football team, helping to lead the team to a New England Championship his senior year. He is an ISL Champion in three different sports. Joining the lacrosse team as an eighth grader, Rob was a five time first team All-ISL selection, a two time ISL Champion, and a two time All-American and ISL MVP. Rob was the ISL leading scorer for his last three seasons and was in the top five in scoring all five years of his ISL career. In those five seasons, he never missed a start and his teammates recognized his commitment by electing him captain his senior season. Rob was also a masterful football player, starting all four years he was on the team. The program steadily improved over his career, culminating in a 7-1-1 record and New England Championship his senior year. During that season, Rob amassed 721 yards and ten touchdowns, contributing to the 2,171 total yards and twenty touchdowns he amassed over his career. Coach Bob Moore recalls, 'In 2004, the team broke a losing streak against Roxbury Latin after which Rob was quoted in the local paper as saying 'I guess we are just starting a steak of our own.' His competitiveness was contagious.' Rob also played hockey for three seasons. He made the team as an eighth grader, one of the few Nobles students to have done so. He was a strong player on the ice from the start. His freshman year team was incredibly strong with a 12-4-6 record. However it was his sophomore year when the team truly shone brightly. Compiling a record of 24-6-2, the team recorded the most wins in a season ever for a Nobles boys hockey team on their way to an ISL Championship.
After graduating from Nobles, Rob continued his success throughout his college career. He played lacrosse and golf at Princeton, where he was the number one seed on the golf team his senior year.
Sarah Plumb Dornak '08
Class of 2018 – Field Hockey, Basketball, Lacrosse
Sarah Dornak is one of the elite female Athletes at Nobles. On the field or on the court, Sarah dominated every sport that she played while a student here. A 12-time varsity athlete, she attained All-League honors in each sport, became the captain of each sport her senior year, and was a nine-time ISL Champion. Upon graduation, Sarah won both the Miller Medal and the Shield Award. A leader both on and off the court, Sarah Dornak remains one of the greatest athletes the school has ever seen.
Joining the varsity field hockey team her freshman year, Sarah utilized her innate athletic ability to dominate on the field. She was a three-time league All-Star and earned ISL Most Valuable Player honors her senior year. In her senior year, she led the team to the NEPSAC championship game.
Playing on the varsity basketball team all four years of high school, Sarah became the most dominant defensive player in the ISL. Leading the team in both steals and deflections in each of her four years on the team, Sarah became the captain of the team in both her junior and senior years. Earning All-ISL honors in her final three years, Sarah was, in the words of her coach Alex Gallagher '90 "a major factor in leading us to four ISL titles."
Sarah's best sport, however, was Lacrosse where she was a three-time All-ISL player, two time ISL MVP, and two-time All-American. Accumulating 120 goals and 70 assists in her career at Nobles, Sarah completely dominated the competition. Her coach, Meg Hamilton, simply stated "Sarah Dornak is the best athlete I have ever coached, and arguably one of the best female athletes to come through Noble and Greenough School.' Hamilton goes on to note that she has 'never seen another athlete play with such pride.Whether Dornak is running down her opponent, picking up a ground ball, winning a draw, or taking a shot, she does it correctly the first time and plays with a confidence and purpose I have yet to see in another player."
Sarah continued her excellence in lacrosse playing all four years at Dartmouth College. With 98 goals, 43 assists, and 155 draw controls over her four years, Sarah became the dominant force in Ivy-League lacrosse. She set the Ivy-League record for draw controls her senior year with 82. In her senior year Sarah was named Ivy-League Player of the Year as well as All-American honors. Following her graduation, Sarah returned to Nobles coaching both field hockey and lacrosse during her five year tenure at the school.
McCallum "Mac" Foote '09
Class of 2019 – Football, Basketball, Lacrosse
McCallum "Mac" Foote '09 was a leader, major contributor, and all-ISL performer on the football, basketball and lacrosse teams as a three-sport varsity athlete during his time at Nobles. As the starting quarterback from his sophomore to senior years, the football team had a 21-4-1 record that included an ISL title, two New England Bowl championships, and an undefeated season.  Foote was named to both the all-ISL and all-New England teams for three consecutive years. He was also named the Co-New England Player of the Year his junior year. As captain his senior year, he led his team to a 5-3 season. After ten years, Foote still holds the career passing records in completions (253), attempts (440), total yards (4,474) and touchdowns (60). Foote is arguably the best quarterback to have worn a Nobles jersey.
Foote's successes were not limited to the football field. He was named the #1 defenseman in lacrosse, and was all-ISL and a stellar captain and defensive player on the basketball court. He was awarded the Eliot T. Putnam Award for football and the Arnold Lacrosse Prize, as well as the Nobles Shield Award. When presenting Foote with this award, former Athletics Director and Football Coach Bob Moore said, "While talented for sure, his desire to achieve, his will to win, and his intelligent approach are intangibles that set Mac apart as such a respected athlete at Nobles, within the ISL, and across New England."
At the intercollegiate level, Foote played at Middlebury College where where he had a record-setting career and many accolades. He was named NESCAC East Region Offensive Player of the Year in 2012 by D3Football.com, and held first-team honors in the Northeast Region by ECAC. As the top player in New England for 2012, he was honored with the Zabilski Award from the Gridiron Club of Greater Boston. He was also one of four finalists for the 2013 Gagliardi Trophy. In 2014, Foote was one of a small number of recipients for a NCAA postgraduate scholarship.
Casey Griffin Giudicelli '09
Class of 2019 – Field Hockey, Ice Hockey, Lacrosse
Casey Griffin Giudicelli '09 was a four-year, three-sport varsity athlete who dominated the field hockey and lacrosse fields as well as the ice, captaining each sport and being a critical part of 10 ISL championship teams. It is hard to sum up her athletic accomplishments in a few paragraphs, and she set the bar for future generations of Nobles athletes. During her time as the only two-year captain in field hockey history, the team had an overall record of 42-3-3. Field hockey coach Maura Sullivan explains that although Giudicelli  was "blessed with speed, quickness, and endurance, she didn't just rely on her natural abilities—she worked very hard to improve herself in all areas." Her senior year, her ice hockey team had a record of 26-1-1; the team won the ISL all four years she played. Giudicelli led her lacrosse team to three ISL titles. She was also twice named U.S.Lacrosse First Team All-American and twice awarded All-New England and All-ISL honors. Giudicelli was the league MVP her senior year and was named Boston Globe Lacrosse Player of the Year, ISL MVP and Boston Globe Female Athlete of the Year. She finished her career as Nobles' all-time leading scorer with 181 goals and 128 assists.
Giudicelli's success on the field and her leadership qualities define what it is to be a Hall-of-Famer, and she is one of Nobles' finest athletes. She was chosen as the Nobles Shield Award winner her senior year. Maura Sullivan remembers, "As far as Casey as an athlete and a team member: there is a reason that she has been the only two-year captain that I have had in 30 years of coaching. A talented and versatile athlete, she could play nearly any position on the field. She worked hard to raise the level of everyone on the field. Casey led by example, pushing herself further when we needed a late-game surge of energy, cheering her teammates on as they all did sprints, and never letting down until the final whistle of a practice or a game. More than that, she just radiated positive energy on the team at all times. Casey not only helped to raise the level of play for varsity field hockey teams at Nobles for the four years that she was on the team, but she left a legacy of high expectations that has carried over since she graduated."
Giudicelli went on to play lacrosse at Dartmouth.
Marissa Gedman '10
Class of 2020 – Field Hockey, Ice Hockey, Softball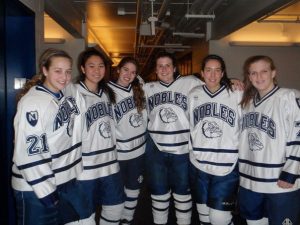 Marissa Gedman '10 played ice hockey, field hockey, and softball, captaining all three sports. She was All-ISL for all three sports and led the 2009 softball team to an undefeated championship season. Her ice hockey team won New England championships in 2008 and 2009 and she was on the hockey team that won the tenth consecutive ISL title. Marissa was selected as the 2010 Boston Bruins John Carlton Award recipient. Outside of Nobles, Marissa led her club team to five national championships and helped the U.S. U18 team to a silver medal at the 2010 IIHF World Championships. After graduating, Marissa went on to play ice hockey at Harvard and the new NWHL with the Boston Pride. She returned to Nobles to teach and coach.
1951 Football
Class of 2010
Under the leadership of head coach and Headmaster Eliot T. Putnam Jr., the 1951 football team completed the first ever undefeated and untied season in Nobles history. "We had a team – in every sense of the word," explained Putnam. "We had a well-balanced team with a steady and strong line…The boys played very good football all season." The hard-fought 14-7 win over Milton at the end of the season was the first victory for Nobles over its archrival in 11 years." In seven games, this dominant Nobles team scored 184 points to its opponents' 45.
Team Roster
William Allen '53
Richard Anderson '52
Donald Atwell '52
Samuel Bartlett '53
Peter Bennett '52
Bruce Biddle '53
Lawrence Bidstrup '54
Robert Catlin '52
Neil Childs '52
Galen Clough '53
John Correa '53
Edward Cox '52
Robert Cumings '52
Warren Dillon '52
Dudley Dumaine '52
John Dunn '52
Jacob Dunnell '52
Robert Dymsza '52
Richard Flood '53
Lucius Hallett '52
David Horton '52
Frederic Jelleme '52
L. Linden '52
J. Newell '53
Winston Perry '53
Robert Prasch '53
Theodore Reese '54
John Stimpson '54
Peter Summers '52
Benjamin Taylor '52
Eugene Vance '52
L. Wakefield '53
E. Ward '52
Peter Willauer '52
William Williams '52
1985 Girls Tennis
Class of 2020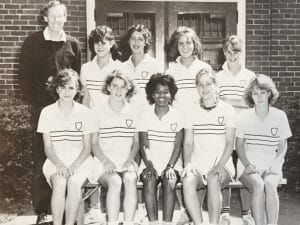 While girls tennis won the ISL in 1983 and 1984, the 1985 team, coached by Tim Carey, was undefeated. The team was comprised of a number of sectionally and nationally ranked junior players including Jennifer Lane '88 and co-captains Kristen Bland '85 and Velina Rhodes '85. Velina earned a three-year singles record of 31-1-2 and Kristen remained undefeated for four years with a 44-0-4 record. In doubles, they also dominated and stood undefeated their junior and senior years with a record of 42-0-1. Jen Lane, inducted into the 2015 Nobles Athletics Hall of Fame and a four-year league all-star, never lost a single set. Carey noted that the success of this extraordinary group boiled down to the team's skill and depth, the players' good humor and devotion to one another, their joy in working hard and creating team harmony that made them feel unbeatable.
Team Roster
Coached by Tim Carey
Dana Gershengorn '87
Jen Lane '88
Janet Barringer '89
Skyler Vinton Kalady '88
Alicia Hesse Cleary '86
Lisa Cummings '86
Velina Rhodes '85
Kristin Bland Fusco '85
MJ Hoffman '85
1987 Girls Basketball
Class of 2012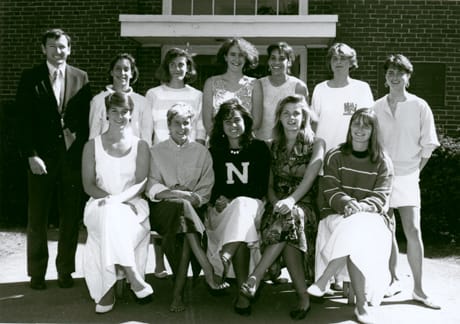 The 1987 girls basketball team is celebrated for a dominant season in which it won both the ISL and New England Championships. This team represents the best in a string of 12 ISL championship teams under former coach Nick Nickerson. The team's accomplishments were particularly remarkable considering a number of the starters missed portions of the season due to injury. Led by captain and 1,000-point scorer Chrissy Cadigan Ducharme '87, the team rolled through the ISL, winning their closest game by 10 points. "This was a true team effort," explains Nickerson. "Not only did the players persevere through injuries, but our bench players would have probably started on most other teams in the ISL. Everyone on the team contributed and played a crucial role in our success."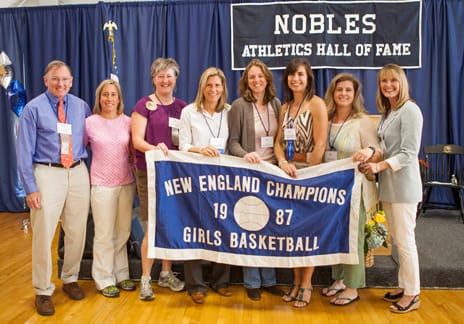 Team Roster
Chrissy Cadigan Ducharme '87
Christina Novicki '90
Barbara Regan Shaver '88
Bekah Ham '88
Lindsay Pollock '89
Lisa Rutstein-Wuesthof '87
Laurie Baker '87
Beth Reilly '87
Kirsten Ardleigh Chadwick '87
Nicole Stata '87
Viveca Paulin '87
Kerry McLean Frisoli '89
1996 Girls Crew
Class of 2016
The 1996 Girls Crew Team made history when it won the ISL, New England, and National Championships. The first boat was made up of coxswain, Sara DelRosso '97; stroke, Jill Walsh '96; 3-seat, Jenny Sherman '96; 2-seat, Katrina Letson '97; and bow, Alison Silveira '97. During their championship run, the boat broke the course record at the New England Championships. The boat went on to the Henley Royal Regatta, making it to the semi-finals.
Coming off a third place finish in the 1995 season, the entire team had something to prove. Coach Lou O'Brien was in her second year at Nobles. The team quickly coalesced, creating great camaraderie between the four boats. Walsh, who was the stroke on the first boat, recalls, "What I remember most clearly is the amazing camaraderie of the team. Everyone was really supportive—all four boats were so fast and yet there was just complete love for everyone."
To say that all four boats were fast would be an understatement. The team put together an undefeated season, easily clinching the ISL Championship, which allowed them to enter New Englands full of confidence. "Yes we were fast" said Coach O'Brien, "yes, we killed everyone, but it was the collective passion from the entire team that led to such success." Nobles made history at the New England championships in the spring of 1996. Nobles completed a four boat sweep, and the first boat beat the course record. Their record of 5:18.3 still stands to this day.
The first boat was invited to participate in the National Championships in Cincinnati, Ohio. Within two days of the competition Nobles was the top seed in the Grand Final. Going up against the fastest boats in the country, the first varsity boat shattered the course record by 12 seconds, winning the race by 12-15 lengths. It was a remarkable achievement that capped off a truly historic season that earned an invitation to the Henley Royal Regatta.
All five rowers went on to compete at the collegiate level following their success at Nobles. Sara attended Dartmouth; Jill went on to Harvard; both Jenny and Katrina rowed at University of Virginia; and Allison competed at Michigan.
Looking back on their achievements, Coach O'Brien remarked, "The 1996 women's rowing team at Nobles was comprised of some of the hardest working, most enthusiastic, and dedicated rowers with whom I have had the pleasure of working." Their hard work paid off, and created a truly special moment for the entire school.
2002 Boys Soccer
Class of 2014
The 2002 Boys Soccer Team is celebrated for a dominant season in which it won both the ISL and New England Class A Championships finishing with a record of 14-0-3. This team represented the culmination of a remarkable run for the program under the leadership of Coach Ben Snyder that included a record six consecutive NEPSAC Class A invitations and two ISL Championships. The team was led by captains Phil Boulay, Nick DiCarlo and Justin Oppenheimer, to whom Snyder attributes much of the team's success. "They were an extraordinary leadership group, among the best I've worked with in my twenty years of coaching," notes Snyder. Oppenheimer earned a First Team All ISL selection as the goalkeeper, yielding a mere 0.4 Goals Against Average. Seniors Ashwin Advani, Ian Graham, Alan Rego and Todd Levin rounded out the strong senior leadership group and proved to be the difference makers after injuries threatened their championship run midway through the year.
This team also featured two future professional soccer players in Mike Videira and Chris Tierney. Videira led the ISL with 16 assists and was the Gatorade State Player of the Year and Boston Globe/ISL All-Scholastic Offensive Player of the Year. He was also voted to the Massachusetts and All New England Prep Teams. Tierney set a single season goal scoring record with 26 goals and was voted First Team All ISL.
The success of the 2002 team paved the way for underclassmen like Erik Pridham, Tom Zingale, Alex Dynan, Alex Bain, Ben Cultice, John Lapides, Peter Glenmullen and Granger Beaton who would go on to lead the team to more than 25 wins in the years that followed.
Team Roster
Ashwin Advani '03
Alex Bain '04
Granger Beaton '05
Phillip Boulay '03
Ben Cultice '05
Nick DiCarlo '03
Alex Dynan '04
Peter Glenmullen '05
Ian Graham '03
Jon Lapides '05
Todd Levin '03
Justin Oppenheimer '03
Eric Pridham '04
Allan Rego '03
Chris Tierney '04
Mike Videira '04
Tom Zingale '04
Ben Snyder (coach)
John Dorsey (coach)
Fred King (coach)
2007 Football
Class of 2018 – Football
The 2007 football team entered the season with a grudge and a goal of doing something special following its impressive 7-1-1 record and New England co-championship the year before. The grudge was against Milton and the goal was to be undefeated with two outright championships in hand. With 17 seniors leading the way, Nobles football history was made in 2007.
The offense was arguably the best the school has put on the field. Averaging 38 points and 381 yards per game, the scoring attack was balanced (24 rushing and 23 receiving touchdowns) and distributed among eight players. Defensively, the team was just as dominant, allowing only 15 points per game, causing 24 turnovers and scoring three touchdowns. Most games were in hand at the midway point with an average score at halftime of 24-7.
The "All The Time" team mantra was certainly personified in the players' and coaches' commitment to each other, the team and how they represented the school. They simply were not going to be denied. Down 12 points entering the 4th quarter against Thayer, the mental toughness and competitive desire of the Bulldogs reigned supreme as they scored 16 unanswered points to complete the comeback and save the season. As for the grudge, Nobles was undefeated and in position to earn the ISL title with Milton standing in its way. It was never close. After leading 29-7 at halftime, Nobles soundly defeated the Mustangs, 43-30, to bring the ISL football trophy back to campus.
Finally, the 2007 team had the chance to make football program history. A win in the New England championship game would be the school's first outright title and secure the most wins in a season. For this special collection of 36 players and 5 coaches it was an opportunity that would not be wasted and they continued their domination with a 42-12 win over the previously undefeated Gunnery School. "I loved being a part of this team," said Coach Bob Moore. "Through the blood, sweat, tears and laughs that we had together, I knew this group would produce something special in 2007. We set the bar at the highest level." The 2007 team took pride in representing Nobles and will certainly do the same as a part of the Hall of Fame Class of 2018.
Team Roster
Michael Aibel '09
Jack Allard '10
Zach Allen '09
Matthew Bezreh '08
Andrew Bishop '09
Dylan Conway '09
Chase Davenport '08
Cameron Dupre '10
Ryan Ederle '08
Jonah Fay '08
McCallum Foote '09
Matt Grape '08
Robert Kelly '09
Thomas Kelly '11
Jackson Kirk '10
Elike Kumahia '08
Jeff Leach '08
Andrew Leonard '08
Andrew LoRusso '09
Devan Luster '09
Gordon McIntire '09
Emmett Mercer '09
William Murphy '08
Patrick Noone '08
Benjamin Norment '08
Spencer Omuemu '09
Alex Owen '11
Peter Owen '09
Nick Resor '08
Rob Schlesinger '08
Sean Shakespeare '11
Ryan Strehlke '08
Robert Troy '09
Michael Turcotte '08
Austin Tuttle '08
Thomas Weyl '08
Steve Brennan (coach)
Daryl Hazelwood (coach)
George Maley (coach)
Bob Moore (coach)
Eric Osorio (coach)
Brian Ford
Class of 2010 – Girls Varsity Crew Coach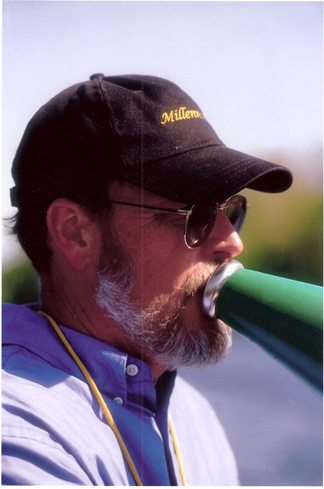 "Brian's style was simple. Hard work paid off in fast boats, and that was it." These comments from one of his former Nobles rowers sum up Brian Ford's coaching style; he was fully dedicated to hard work and winning. This approach worked beautifully, as the Nobles crews that he coached were the class of New England. In the four-year span from 1991 to 1994, his teams only lost one dual race. In 1991, the first two boats won New England Championships; in 1992 and 1993, the four Nobles boats swept the New England's; in 1994, the first, third and fourth boats won, with the second boat finishing second. The 1992 first boat won the New England's by an astonishing margin of 10.6 seconds while that year's second boat won its race by 14.4 seconds.
At the 1991 Nationals, the first two Nobles boats took home the bronze for the United States Rowing Association Junior Women's four. That same year they took home a USRA Junior Women's pair silver medal. Those same two boats traveled to the Empire State Games and each of them won gold medals. The next year they combined the top two boats in order to compete in the Nationals for the USRA Junior Women's eight and won gold, defeating Andover, the NEIRA eights winner, by a tenth of a second.
While Brian gives credit for the program's success to the rowers in the boats, coaching with an emphasis on character and leadership guided his athletes to success. "He was a strict disciplinarian with high expectations, and at the same time, someone that we all looked up to, someone who inspired us to be truly nothing but the best," explained a Nobles rower.
Brian's work ethic and determination were keys to establishing the Nobles girls crew program as one of prominence in New England Interscholastic Rowing and set a foundation for the continued success to this day. He left Nobles in the spring of 1994 and headed for the Miss Porter's School in Connecticut. He built the program from an upstart into a championship caliber team with his leadership and motivation abilities.
Brian currently teaches English at the Dana Hall School, where he has coached cross-country and volleyball and hopes to start a crew. Brian and his wife, Burch, retired Head of Miss Porter's School, live in Concord.
Wilbur Storer
Class of 2012  – Trainer, Coach, Friend
Prior to his time at Nobles, Wilbur Storer spent years swimming and hiking around Waltham where he grew up. He attended Boston University and, in the 1930s, was regularly featured by Boston newspapers, as he was a letterman in four sports: swimming, diving, wrestling and football, the last two as captain.
Wilbur worked at Nobles from 1946-1985, during which time he taught science, coached and served as a central figure in the athletic department. He introduced wrestling at Nobles as an interscholastic sport in 1947 and coached the team until 1967 (except during the '62 and '63 seasons). The 1954 team was undefeated, and the cumulative team record under his leadership was 94-67-9. He coached 13 Graves-Kelsey Champions and one National Champion, Nobles hall of famer Clift Georgaklis '82. Clift writes: "Wilbur was always singular in my mind while at Nobles as friendly, tenacious, intelligent, humorous and wise. Wilbur, and his twin brother Warren, were always there for support and advice with their 'old school' toughness and class, attributes Wilbur exemplified without ever preaching. Wilbur once told me my wrestling had an 'irritability' that a wrestler must have, and I never understood what he meant until years later. I then realized he understood me better than I understood myself. He was not only wise, but he cared, as anyone who knew him can attest to. It should make us all proud that Nobles has embraced Wilbur's outstanding legacy."
Winston "Hooley" Perry '53 also remembers Wilbur fondly: "Wilbur was a wonderful and inspirational teacher and coach who always promoted the strength of character development first and winning second. Through his teachings in chemistry, biology and wrestling, he became an outstanding role model for all of us, and he made the grueling sport of wrestling an enjoyable adventure. Who could forget Wilbur's fun-loving personality that he gifted to all of us in the classroom, on the field and in the gym? Even now, thinking of Wilbur Storer brings a smile to my face."
As athletic director, Wilbur planned the scheduling of all games, meets and matches. This was a behind-the-scenes job, but over the years, he received several commendations from New England Preparatory School Athletic Council (NEPSAC).
He went on to become the school's athletic trainer and physical therapist. In these roles, he endeared himself to legions of Nobles graduates. He also ran the team store, was the equipment manager and assisted with the football teams.
Wilbur's son, Jay Storer '65, adds:
"It wasn't easy to be the son of such an admired member of the Nobles faculty, but the qualities mentioned above were doubled for me, because he was an exemplary role model as a father and as a teacher. At any Nobles events I've attended since graduating, I always encounter graduates who are anxious to tell me stories of how they couldn't have graduated without Wilbur having given them extra lab time so they could pass chemistry or science.
I have my favorite stories just like everyone else, but I'll just mention one that is typical. When I was on the wrestling team, I had an unorthodox approach that would put my opponent seemingly ready to pin me, but I would actually make a last-minute reversal out of it. Dangerous, but it usually worked. My mother was often there in the stands in the gym, and when she was there with Dad, she watched him like a hawk. If it was my match that he was watching, he would start yelling things I couldn't hear. He would get so nervous because of my style that he would apply the hold he wanted me to use on the unlucky person seated next to him, at times throwing a half-nelson on a perfectly-coiffed Grand Society matron! My mother would have to referee or break the thing up. He had more spirit about everything in life, from a football game to a blade of grass. If he were here today at Nobles, he'd have that self-effacing combination of embarrassment and pride for this induction to the Nobles Athletics Hall of Fame."
The 1975 Nobles yearbook provides a fitting conclusion: "Wilbur Storer is one of the finest men this school has ever employed. His many accomplishments are only outnumbered by his friends. Sincerest thanks to a one-in-a-million man."
Nick Marinaro
Class of 2013 – Football and Basketball Coach
Nick was easily the most important figure of my Nobles career.
Nick coached football from 1977 to 1996, with undefeated seasons in '78 and '79 and '85. He amassed a remarkable winning record over the years, including some years in which his team was projected to be weak and ended up with a strong, winning record. Personal testimony about Nick as a coach is plentiful, particularly from the three undefeated teams. A year before his teaching career began at Nobles, Nick also took over a struggling basketball program in 1976 and served in that capacity until 1987. In 1982, his players credited him with creating "a new tradition," one that led to the program's first ever ISL title in 1984.
While he is most commonly known for his football and basketball teams, Nick was not relegated to one area of expertise. He coached varsity baseball in 1990 and in the early 2000's, he took over the girls softball program, where he won another ISL title in 2002. Later in his career, he shifted from the varsity levels to the middle school athletic program, coaching middle school football, basketball and baseball.
Zach Foster '02 writes, "Nick was easily the most important figure of my Nobles career," while Nicholas Chu '02 adds, "As a nervous 7th grader, no one did more to make me feel comfortable and welcomed than Mr. Marinaro." The same coach who brought such immense intensity to athletic competition also brought a gentle compassion to the classroom over an impressive 36 year career.
Tim Carey
Class of 2017  – Squash, Soccer, Tennis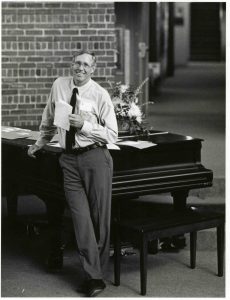 Tim Carey, a legendary former faculty member, is one of the greatest coaches in Nobles Athletics' storied history. Coaching three different varsity level sports, Tim demonstrated his versatility and athletic prowess to the legions of students he coached. He co-founded the squash program at Nobles with Deb Harrison, and built a dynasty with the girls soccer program.
Tim began coaching the boys varsity soccer team in 1977. With an impressive 71-29-16 record over eight years, Tim led the team to two ISL Championships in 1979 and 1983. The 1983 team was the first ISL team to make it past the first round of the New England Championships. In 1982 Tim co-founded the squash program with Deb Harrison. Tim helmed the boys varsity team from 1982-1986. The team had an 18-13-1 record. Tim built a strong foundation for the squash program and enabled the program to grow into the strong powerhouse that it is today.
To say that the Nobles girls varsity soccer team during Tim's time as coach was dominant would be an understatement. They were the strongest, most consistent team in New England. Beginning in the fall of 1986, Tim began coaching the girls varsity soccer team. From 1986-1990 the team went 64-2-6. They went undefeated his first four years going 55-0-4 and securing ISL Championships all four years. Those teams were also New England Champions in 1986 and 1987. Tim returned to the program as an assistant from 2011 to 2013. The team went 37-4-10, won an ISL Championship in 2011 and a New England Championship in 2013. Tim was also the girls varsity tennis coach from 1985-1990. Those teams were excellent throughout those nine years. They secured the ISL title in 1985. Between this title win in Tennis and his success in soccer, Tim won seven ISL titles and three New England Championships between all of his coaching responsibilities.
While his statistics alone would surely merit entry into the Hall of Fame, Tim Carey is also universally beloved and respected by his students, players, and peers. Despite his tremendous success at the varsity level, Tim was also happy to lend his leadership to the middle school programs where his competitiveness and his compassion for mentoring young people met in perfect harmony. His leadership was evident both on and off the field, and the standard he worked to create is still met in Nobles' athletic culture today.
Caroline 'Ceci' Clark
Class of 2018  – Soccer, Hockey, Crew
Caroline "Ceci" Clark has left a familiar legacy in Nobles Athletics and it feels more than fitting that she be inducted into the Hall of Fame this year. Ceci held several titles at Nobles as a teacher and as a coach. Ceci joined the Nobles faculty in 1977 as Assistant Athletic Director and English teacher. She graduated from Brown University and taught at the Pomfret School for two years before coming to Nobles, which was familiar to her as she married grad Ham Clark '68. In addition to holding the claim to the first female Athletics Director in the ISL, Ceci is well remembered for her spirit and enthusiasm as the girls soccer coach.
Ceci helped enhance the visibility of girls sports at Nobles and within the league. She was the first female Athletic Director in the ISL from 1981-1983 and coached the Girls Varsity Soccer Team for nine seasons, as well as the girls hockey and the crew teams. Clark was the embodiment of the Nobles teacher-coach model, having served as a class coordinator and on the admission and action committees, as well as directing the Middle School from 1984-1986.
Ceci is credited with bringing the girls soccer program into the forefront, giving the sport the attention that lacrosse, basketball and field hockey already had. During her time as girls soccer coach, the team won two ISL Championships and had an overall record of 80-26-8. But her impressive record is only one of Ceci's lasting legacies at Nobles. Ceci also led her soccer team on two international trips to Europe in the early eighties.
Former Girls Soccer coach Tim Carey declares, "I was and continue to be one of Ceci's greatest fans… the teams she had were awesome' I took over for the girls when Ceci left the school. I got too much credit for what really was her success." Ceci's character and the example she set for her players has become legendary. Carey explains, "As a person, they do not come much better. She was joyful in every way. Her players loved her because she never took herself too seriously, and she let her athletes be kids, have fun and be joyful like her even when they were working hard and winning all the time. I can remember when the two fields on which we played were side by side, and the boys would scoff at how all the girls did was screw around. Result: the girls always seemed to win…the boys did win but not nearly as much or as convincingly."
One of Clark's former players, Karen Gray '86,  attributes the strength of the girls athletics program for years to come largely to Ceci: "The amazing female coaches and teachers Nobles has now are there because Ceci paved the road for them." Teammate Kim Griffith Hyland '89 echoes: "Ceci was a trailblazer for female athletes at Nobles and led by example.  She was full of positive energy and expected the best from all of her players and colleagues.  Ceci's era at Nobles marked the beginning of the success that Nobles female athletics has experienced over the past three decades.  As the first female Athletic Director, she showed our generation how to lead with grace and dignity and overcome obstacles." Ceci's legacy continues to be felt today. Hyland continues, "When I think of how lucky my daughters are to be a part of the Nobles community and it's successful athletic programs today,  I know that we owe a lot to Ceci.  Ceci brought out the best in everyone, and opened Nobles' eyes to the power of a strong female scholar athlete and the doors that it could open."
Her impact was so notable that upon her departure from Nobles in June of 1986, the members of her soccer team banded together to honor her legacy. This legacy continues today with the Ceci Clark Shield award given to a female soccer player who best embodies the qualities, character and camaraderie that Ceci represented. Every athlete at Nobles is familiar with the name Ceci Clark and for that, she is happily inducted into the Hall of Fame Class of 2018.
David C. Horton Sr.
Class of 2019  – Soccer, Basketball, Baseball
David C. Horton Sr. was born in Hawthorne, New York in 1903. He graduated from Pleasantville High School in 1921 and received his A.B. from Columbia College in 1925, where he played baseball and ran cross country and indoor track. He played semi-professional baseball after college and in one league record, he had a batting average of .680. He earned a M.A. in mathematics from the University of Cincinnati.
Horton came to Nobles in 1938, teaching and coaching for nearly four decades while touching the lives of hundreds of Nobles athletes. Nearly 50 years later, he has left a lasting impression on many of our graduates. Horton was unique amongst the coaches of his day in that he wore the team uniform alongside his players. As his son, David Horton Jr. '52 pointed out: "It spoke to the professional approach that he took towards the game. His players may not have had the physical skills of the pros, but he certainly taught them the mental ones."
Horton coached his teams to nine league championships and was an influential force behind Nobles' growing soccer and basketball programs in addition to his main sport, baseball. In total, he led our baseball team to 30 winning seasons and six championships. He helped start the soccer team in 1948 and led them to an undefeated season and two Private School League championships in 1951 and 1952. Horton had an immeasurable influence on the lives of his players. Neil Childs '52 recalls, "He added a dimension to all our lives, persuading us not to yield before a mission was completed in full—that there were no shortcuts to success." Horton was also instrumental in building the basketball program, which by 1952 had become a powerhouse in the league, had a 13-1 record, and became the PSL champions. The 1952 Graduates Bulletin reports: "The rise of the sport was a great tribute to the coaching skill of Mr. Horton."
Horton taught physics, mathematics and Latin at Nobles from 1938 until his retirement in 1968. He is described by his students and athletes as being tough and demanding. He expected 100% out of everyone, teaching his students to push themselves and work hard. Summed up by one baseball player: "Inflexible and at times exasperating, yes, but a man of high moral character. His standard of personal conduct was so exacting that a word of praise, however rare, would light up the heavens." Most players, however, heard his infamous phrase, "You darned nut!" in exasperation. In an article for the Nobles Bulletin upon his retirement in June of 1968, Mr. Horton is described as "a rock in the school's academic and athletic life… Dave has always demanded much of his charges and equally much of himself. A shrewd strategist, a fiery competitor, a warm-spirited gentleman, he will be missed."
Three generations of Hortons have graduated from Nobles: David Horton Jr., graduated in 1952, David Horton III in 1978 and Savannah Horton from the Class of 2013.