Wrestling, one of Nobles' oldest sports, was introduced as an interscholastic sport by the legendary Wilbur Storer back in 1947. Since then, Nobles has produced many Graves-Kelsey and New England Champions, as well as National Prep School place winners and a national champion. However, individual accomplishments and team record are secondary to more lofty goals.
Past wrestlers contact us yearly to tell us that wrestling played a significant role in their development as a person. In practice and during competition, we stress hard work, discipline, and responsibility for one's actions. In addition, we emphasize the team aspect of wrestling, sportsmanship, and respect for others. Although the sport of wrestling is challenging, we create an environment which is supportive for experienced wrestlers and novices alike.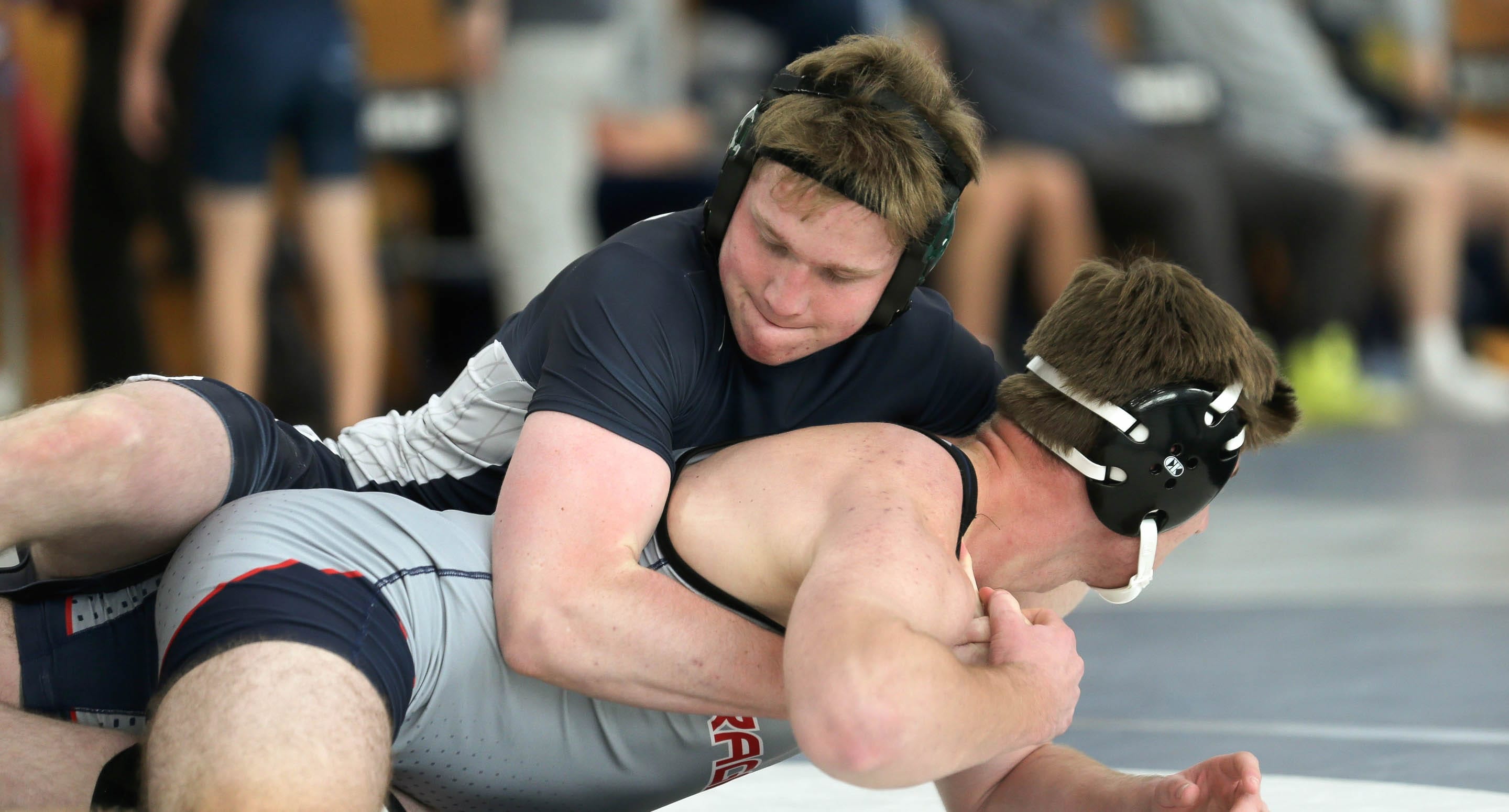 Schedule and Scores
Directions for accessing individual match results.
Go to www.trackwrestling.com
Go to the browse section, located top middle with the magnifying glass.
Select seasons.
Select 2018-19 High School Boys
Select National Preps.
Search 'team names' and type in Noble (or Noble & Greenough School).
From there, you can search all individual match results.
---
Looking for the wrestling record book?  Click here! Charles Danhof
Head Coach
At nobles since
Coaching Philosophy:  Have fun. Work hard. Get better. Coach Danhof focuses on the process, the overall experience as a way to find fulfillment and to build character. For him, wrestling is not about the wins and losses but about growing as a person through the unique challenges and opportunities that the sport presents.
Coaching Tenure/Prior Coaching:  Coach Danhof is in his 4th year of coaching at Nobles, his 16th year coaching overall. He also teaches English and works with the Strength & Conditioning program. Prior to Nobles, he served as the head coach at BB&N and coached at Blair for 11 years, one year as the head coach. While at Blair, he helped coach 6 consensus #1 teams in the country and took part in a 35-year streak of 1st place finishes at Prep Nationals. Coach Danhof also coached Team NJ, working with the girl's team and the boy's freestyle & greco teams. During his coaching tenure, Coach Danhof has worked with wrestlers of all levels, from first-year wrestlers to those who went on to wrestle at the division one level. Former wrestlers have competed at Williams, Harvard, Army, UPenn, Michigan, UNC, University of Chicago, Lehigh, Davidson, Cornell, Stanford, and Princeton.
Competition Experience: Coach Danhof competed collegiately at Williams, placing in New Englands and captaining the team his junior and senior years. In high school, he was a two-time NH state champ, and two-time Public School New England finalist. Steve Toubman
Assistant Coach
At nobles since 1981
Coaching Philosophy:  The coaching staff attempts to help wrestlers of all levels achieve their potential, whether the athlete is a novice or a veteran of the sport. Emphasis is placed not only on perfecting technique, but also on building character and displaying good sportsmanship.  Qualities required for success on the mat include hard work, honesty, discipline, perseverance and self-confidence; these essential traits will help students flourish off the mat and beyond Nobles.
Although wrestling is often considered an individual sport, at Nobles the team aspect is emphasized as well. A culture has been established in which upper class athletes serve as role models and support the development of younger wrestlers.
Coaching Tenure: Coach Toubman is set to begin his 38th year coaching wrestling at Nobles. He also teaches math and coaches 3rds level soccer. He brings a wealth of experience, immense passion, and patience to the wrestling program. During his coaching career, he has involved himself not only with high school competition, but also with youth wrestling, club activity, wrestling camps, and USA Wrestling. Coach Toubman's passion is not restricted to the Northeast region of the United States. He has attended NCAA Division I, World Championships, and Olympic competition in many different states and countries. Coach Toubman earned his Silver Level Certification from USA Wrestling in 2004.
Competition Experience:  Coach Toubman is a graduate of Amherst College, where he started for four years, earned All-New England honors three times, and captained the team during his senior year. Following college, Coach Toubman actively competed in freestyle for eight years. Kevin Gerhart
Assistant Coach
At nobles since
Coaching Philosophy: Coach Gerhart's coaching philosophy emphasizes the importance of self-confidence, discipline, and desire through motivating and inspiring athletes to constantly improve, regardless of final results. "All I want is all you got."
Coaching Tenure: Coach Kevin Gerhart enters his 7th season at Nobles. In the practice room, he wrestles with many of our mid to upper weights. While he works with all levels and all wrestlers, one of his most notable roles has been in the development of Hayden Folgert, who placed third at New Englands and qualified for Prep Nationals, in only his third year of wrestling.
Competition Experience:  Prior to Nobles, Coach Gerhart competed in football and wrestling at Wilkes University. As a four year starter in football, he was awarded First Team All-Conference three times, and Second Team All-American his senior year. Although Coach Gerhart only wrestled during his junior year at Wilkes, he started in the 184lb weight class and participated in the conference championships. Before college, he wrestled at Lower Dauphin High School in Hummelstown, Pennsylvania where he was a two-time Section Champion and placed 8th at the PA State Tournament in 2007. Coach Gerhart was also a three-year varsity starter in football for the Falcons. Stephen Jordan
Assistant Coach
At nobles since
Coaching Tenure:  This fall marks Coach Stephen Jordan's 8th year coaching at Nobles. Coach Jordan began his coaching career at Newton North High School, where he coached football, wrestling, and baseball. More recently, he was the head wrestling coach at Dedham High School, where he coached five sectional champions, 2 state champions, an all-state champion, and a New England champion. At Nobles, he works primarily with our upper weights, providing great instruction and serving as a wrestling partner. In addition to wrestling, he coaches varsity football and heads the JV baseball team.
Competition Experience:  In high school, Coach Jordan started for three years on the varsity wrestling team at Dedham High, where he also played football and baseball. In wrestling, he won a sectional championship and placed 5th at the Massachusetts State Tournament. He continued his football career at Framingham State University where he started as a linebacker for four years, was a two-time captain, First Team All-Conference, and All-New England. Gregg Martino
At nobles since
Coaching Philosophy: Coach Martino is a huge proponent of learning through trial and error and having athletes answer their questions through trying different methods. He finds it more effective to provide tools, strategies, and education so that athletes can learn what works, rather than spoon-feeding answers or trying to force a system when a different approach would work as well.
Coaching Tenure: Coach Martino begins his first year working with the wrestling program, and he will head the middle school team, as well as work with the upper school team. He also teaches crossfit classes, travels to lead workshops and trainings for crossfit, and runs a large-scale, outdoor adventure race.
Competition Experience: Coach Martino graduated from NYU where he qualified for the NCAA Championships two times. He also won a conference championship. In high school, he served as a captain of the wrestling team for three years, and he was a state finalist in Virginia. He also earned All-District in football and baseball. Kirk Gosik
At nobles since
Coaching Philosophy: Wrestling is about having fun while challenging yourself to improve. I hope to help each wrestler grow their skills by focusing on technique and having fun in the process.
Coaching Tenure: Coach Gosik begins his first year as a volunteer assistant with the wrestling team. Before Nobles, he coached for nine years at Lower Dauphin Middle School and Lower Dauphin High School. Currently, Coach Gosik is in a postdoctoral program at the Broad Institute of Harvard and MIT, studying advanced level genetics.
Competition Experience: Coach Gosik wrestled at Lower Dauphin High School in Hummelstown, Pennsylvania.