Nobles seeks candidates who desire ongoing professional growth and demonstrate a dedication to young people. We have long been committed to diversity, and take pride in attracting and supporting faculty and staff from a broad range of backgrounds and experiences.
Our employee culture hinges on the belief that we best serve our students when we ourselves are professionally challenged and physically, emotionally and financially well. We encourage balance through on-campus initiatives: a fitness center and classes, healthy challenges, professional development, counseling about topics from finance to nutrition, team-building events, counseling/mental health resources, a book club, mindfulness, gym and retail discounts and a community garden.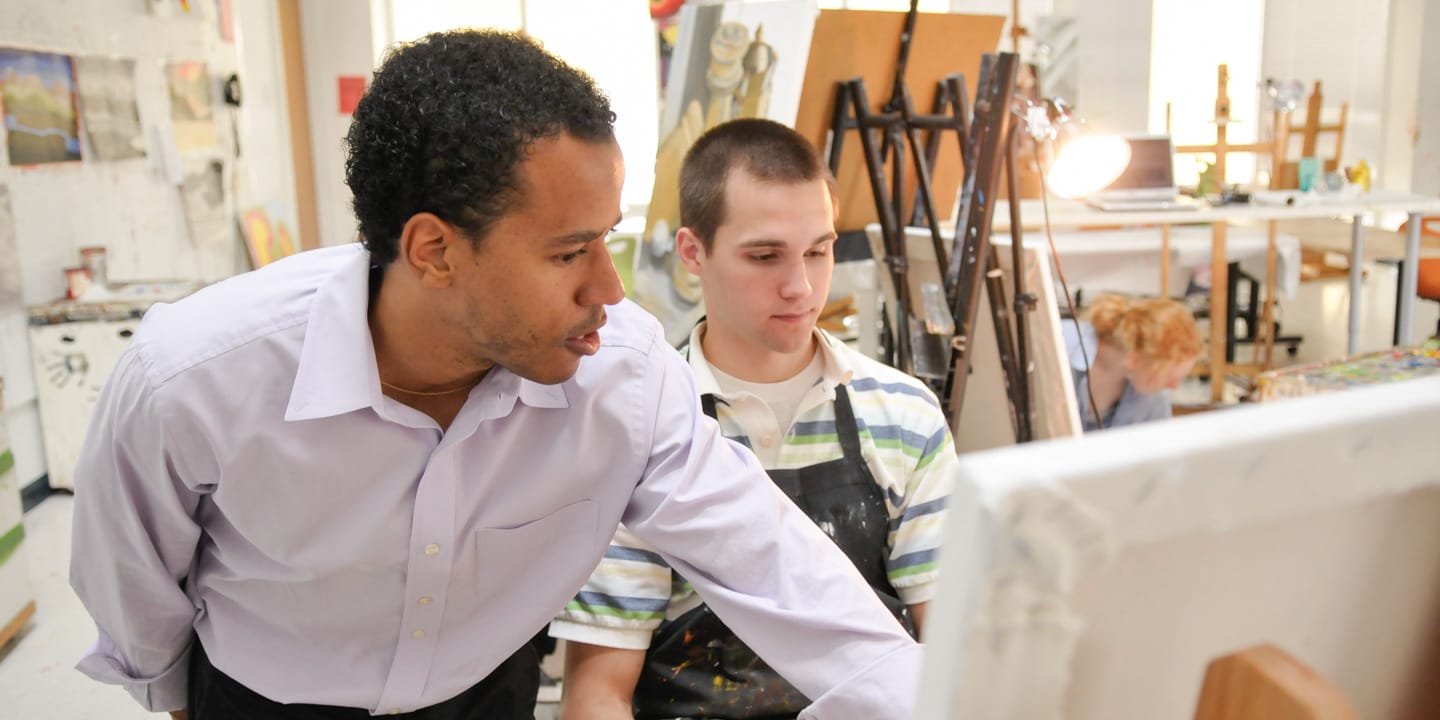 Current Job Openings
Teaching and Administrative Positions
Mathematics Teacher
Nobles seeks an experienced teacher of Mathematics. The successful candidate will have a strong academic background, exemplary pedagogy and teaching skills, the ability to teach advanced courses in math, e.g., AP BC Calculus, AP AB Calculus, AP Statistics, Multivariable Calculus, and three to five years of teaching experience in a rigorous academic setting. A Bachelor's degree is required and a Master's degree with an appropriate focus is preferred.
This is an opportunity to be part of a dynamic department that values skill development, a hands-on approach to teaching, and positive student-teacher relationships.
Successful candidates will be able to contribute significantly to the life of the school in at least one non-academic area (athletics, community service, admissions, or performing arts). Nobles has a long standing commitment to diversity and takes pride in ensuring that this is reflected within our faculty, staff and student body.
To apply, please send your resume with cover letter to:
Michael Denning, Head of Upper School
Noble and Greenough School
10 Campus Drive
Dedham, MA 02026
mdenning0f@nobles.edu
Teaching Fellowship Program & Opportunities for Fall 2018
Overview of the Teaching Fellowship Program
Each year, Nobles seeks to hire Teaching Fellows in various academic disciplines for a one or two-year position. Designed for early-career educators and recent college/university graduates, a Teaching Fellowship is a full-time commitment that goes from late August until early June. Compensation is paid to Teaching Fellows on a twelve-month basis and includes a salary and health and dental insurance. Housing is often a part of the compensation package.
Fellows usually teach one course, work with a mentor teacher, become fully immersed in the academic life of the school and their academic department, as well as coach and mentor students in our afternoon and residential programs: athletics, community service, and the arts. Some Teaching Fellowships involve progressively increased teaching opportunities over the course of the year, depending on the Fellow's qualifications and the needs of their department. Fellows are assigned a faculty mentor within their academic department and are also supported, observed and evaluated by a member of the Faculty Evaluation Team. Thus, while working in the classroom throughout the year as teachers, our Fellows are also students of education, learning not only from their faculty mentors but also from self-examination of their own work.
Please check back for Teaching Fellow positions as they become available.
Former Teaching Fellows Perspectives
Thomas Bloom – Classics
The Nobles teaching fellowship is a great way to explore the world of education. Not only does Nobles offer fellowships in teaching various subjects, but it also offers fellowships in other areas of the school such as admissions and development. On top of this, many fellows become involved with planning and chaperoning school trips, coaching multiple sports, and running a school club. The opportunities are endless and diverse. The best part of the program is the continuous support one feels from everyone in the community, especially the support given by a mentor. It has been a pleasure to work with such intelligent and motivated individuals who strive to carry out the school's mission on a daily basis.
Ashley Bradley – English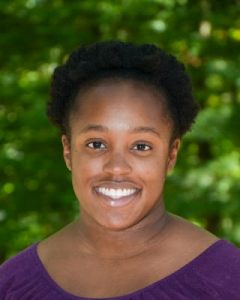 Fellowships at Nobles are an excellent opportunity for young professionals to dip their hand into the realm of education. My fellowship experience has alloted me a unique and special opportunity to work in different arenas of the school including diversity initiatives, teaching, admissions, coaching, leading trips, planning and organizing meetings and events, and working closely under the tutelage of a mentor teacher who provides advice and support. Additionally, the constant dedication, hard work and passion demonstrated by fellow teachers makes Nobles an atmosphere ideal for a young teacher to grow and succeed in a community very much committed to living out its mission.
Kelsey Grousbeck – Visual Arts, Photography
Being a Nobles teaching fellow allowed me to test many different positions in an independent school community while developing as a teacher and a colleague. Immediately, Nobles trusts you to take on a lot of responsibilities, including having your own classes instead of shadowing, but you are navigating these responsibilities under the mentorship of skilled and truly passionate faculty members. You are encouraged to find your own voice and seek out various roles in the community, and through coaching, teaching, chaperoning service trips, advising, and pursuing community initiatives, you can comfortably find your niche while receiving valuable feedback throughout the year. And though Nobles is known for its tight-knit community, the faculty and students all invite fresh ideas, personalities, and humor to the classroom and beyond, making teaching fellows feel immediately welcomed and respected for broadening our community.
Michael Hoe – Science
Being a teaching fellow at Nobles is a great way to gain valuable and lasting experiences in the classroom, on the fields/courts, in the dorm, on stage, and a variety of other arenas in the world of independent schools. Not only does the teaching fellow program allow you to grow in a professional sense, but you are given the opportunity to develop personally in an intellectual, vibrant, and diverse community; furthermore, my colleagues at Nobles were always incredibly supportive and encouraging, even though I was a brand new teacher. My time as a teaching fellow provided me with the scaffolding to be well prepared for any situation that could arise as a teacher, coach, advisor, colleague, or mentor. Ultimately, it also made me realize that I wanted to stay in the field of education and I truly believe I would have not had this experience elsewhere. I am grateful for the invaluable opportunity I had as a teaching fellow at Nobles.
Michelle Huber – Modern Language, Spanish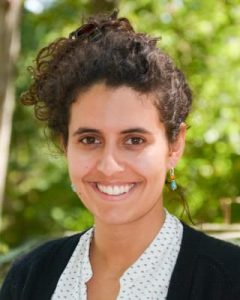 The teaching fellow experience offered me a perfect match of my prior experience with a new level of challenge. Before working as a teaching fellow, I had a lot of experience assisting in the classroom, tutoring and working at summer programs, but I had never been a lead teacher. The fellowship provided a perfect next step with a significant amount of responsibility, without feeling too overwhelming. With mentoring from a language faculty member, as well as the dean of new faculty, we had ample opportunity to discuss problem-solving and concrete strategies. I remember very clearly during the first day of orientation when the head of school told us that we would be doing our job wrong if we never asked questions. The teaching fellow experience is about learning how to be a teacher, but we don't just sit around and talk about pedagogy; we observe, experiment, and live it. I also found that Nobles trusts its employees. If you have an initiative or an idea you want to bring to the classroom, it is always possible. Although I was hired as a Spanish teaching fellow, I was also able to work in the dance afternoon program, which is another major passion of mine. Nobles will find ways to utilize your skills and passions, because as an institution it knows that passionate teaching makes for passionate students.
David Medina – Social Science and History, Diversity Office, Provost Office
Fellowships at Nobles are an excellent opportunity for young professionals to try out a career in education. My fellowship experience allowed me to garner a panoply of experience in different arenas of the school including diversity initiatives, teaching social science, admissions, coaching, leading trips through the experiential initiatives of the school, planning and organizing events, and working closely under the tutelage of a mentor teacher who provides advice and support. Additionally, the constant dedication, hard work and passion demonstrated by a talented bevy of colleagues makes Nobles an atmosphere ideal for young teaching professionals to grow and succeed in a community very much committed to living out its mission.
Staff Positions
Assistant Director of Reunion Giving
Noble and Greenough School, an independent middle and high school located in Dedham, MA, seeks an Assistant Director of Reunion Giving to join its team.  This position reports to the Major Gifts, Director of Graduate Leadership Giving and will be responsible to promote the continued growth, in both total dollars and in participation, of the Annual Nobles Fund with particular emphasis on leading reunion class giving.
Responsibilities and tasks for this position include:
Reunion:
Manage reunion planning and collaborate with all reunion managers, as well as members of the Graduate Affairs and Operations teams.
Work closely with major gift officers who will be managing leadership giving for reunion classes; provide them with class fundraising updates and/or relevant class and reunion planning information.
Coordinate all aspects of reunion for 3 to 4 classes including committee recruitment and management, class fundraising, and class specific reunion event needs. Serve as the key point of contact between Nobles and reunion committee members.
Develop an action / communications plan for each class for the year leading up to reunion in May with specific dates and committee / class milestones.
Organize reunion manager and committee meetings including solidifying date, time and location, as well as preparing the agenda and following up with specific next steps.
Reiterate importance of fundraising as vital component of reunion planning and success and work with reunion committees to establish dollar and participation class goals for each reunion class.
Support each reunion committee as necessary to ensure dollar and participation goals are achieved and help with specialized programming as allowed.
Ensure all reunion communications including save the date and solicitation letters are effectively and clearly written, and sent out in accordance with reunion planning milestones.
Support Graduate Affairs and Development Team on reunion weekend with event planning and preparation, etc.
Direct Fundraising:
Solicit Nobles reunion graduates on behalf of the ANF as needed throughout the year via phone, email and in person
Manage a list of leadership level ANF prospects
Support ANF and reunion team with stewardship, cultivation, and fundraising events
Assist in fall "Nucleus Fund" fundraising push to secure over 70% of our ANF goal in gifts and pledges
Assist in year-end solicitations to ensure ANF dollar and participation goals are met
Performs other duties and special projects as assigned by the Major Gifts, Director of Graduate Leadership Giving
Qualifications:
Bachelor's degree
At least 3 years of fundraising and/or alumni relations experience
Strong verbal, written, and organizational skills with demonstrated ability in effectively handling multiple projects with extreme attention to detail
Ability to motivate and manage staff and volunteers and set and achieve specific goals and priorities
Proven leader with outstanding judgment and diplomatic tact relating to communications with donors and key constituents
Proficiency in MS Word, Excel and PowerPoint
Database management experience (specifically Raiser's Edge) preferred
Must be able to maintain confidential and sensitive information
To apply, please send a cover letter and resume to Ms. Katie Coggeshall, Major Gifts, Director of Graduate Leadership Giving, at k_coggeshall@nobles.edu.  No phone calls please.
Director of Campus Safety
Essential Functions and Key Objectives
Administration
In cooperation with administrators, establish and develop proper security policies, procedures, and guidelines to provide safety and security of life and property on and off campus.
Supervise all security personnel, including hiring, training, managing, and scheduling for daily operations and special events.
Lead emergency planning and incident management, and ensure that necessary policies and procedures are in place.
Manage and document all emergency incidents as well as safety drills including fire, lockdown, shelter in place, and evacuation drills.
Provide incident command and coordinate emergency response for incidents such as fire, missing student, or other emergencies.
Develop traffic and parking plans for all events held on campus.
Administer motor vehicle registration and parking/traffic control programs.
Provide oversight and ownership of the Nobles background check policies and databases.
Serve as a member of the facilities management team and support the work of the facilities department.
Community Relations
Maintain regular contact with administrators, department heads, and student groups.
Act as liaison between Nobles and local emergency service organizations.
Develop and maintain a working relationship with local police, fire, and other emergency response departments.
Represent the department at meetings and special events on campus and at other institutions.
Develop, manage and oversee campus safety committee.
Operations
Sponsor and provide in-service training programs for employees and oversee continuing education requirements.
Direct, supervise, and coordinate all fire safety equipment, drills, inspections, and systems requirements in conjunction with Director of Facilities.
Manage security systems, software and equipment to include access control and video cameras.
Assists with Snow Removal, Graduation and other special events.
Perform other duties as needed to support the needs of Building and Grounds.
Additional Requirements
Experience with emergency planning and incident management, to include familiarity with the Incident Command System.
Demonstrated knowledge in critical incident response and current technology and communication systems.
Ability to work in a high pressure and fast paced environment.
Excellent interpersonal skills, including the ability to establish respect, credibility, and trust and maintain productive working relationships at all levels of the organization.
Strong communication skills – verbal, written, presentation and in-team facilitation.
Ability to use discretion and good judgment in a variety of circumstances with proven ability to effectively, continuously and discretely work with confidential and potentially sensitive information.
Experience in effective crisis management, as well as problem-solving.
Knowledge and experience in applying best practices for safety and security programs, preferably in an academic setting.
All Nobles employees must be fingerprinted and pass a Federal and Massachusetts State background check.
Qualifications
Experience working in law enforcement, military police, or related field highly preferred.
Prior supervisory experience managing scheduling and staffing for various events.
Bachelor's degree in a relevant field or equivalent combination of training and experience required.
Valid vehicle operator's license.
Successful completion of state and federal clearances.
Physical Requirements
Work is performed inside and outside the building with exposure to inclement weather and unpredictable crisis situations and candidate must be flexible with working hours and working conditions, including:
Ability to walk for long periods of time around campus
Ability to lift and/or move up to 75 pounds
Ability to climb stairs
Ability to sit at a desk working on a computer
Interested candidates should send a cover letter and resume to HR@nobles.edu by September 8.
Coaching Positions
Details
Please check back as positions become available.
Application Form
Download an application (to mail)
*Noble and Greenough School is an equal opportunity employer.
1974
Year our senior master started
300+
Years of collective teaching experience in the math department
2012
First year of our community garden