Dr. Martin Luther King, Jr. Assembly 2019
Ami Nwaoha and Devon Minor, both '19, spoke in unison as they took on the identities of Emmett Till and Tamir Rice, two black boys murdered 59 years apart for the color of their skin. Seeing and hearing Nwaoha and Minor, two young black men not much older than the boys at the time of their deaths (14 and 12, respectively), drove home the impact that racism continues to have on our communities and people of color. The message was clear: hate and ignorance are killing our children, friends, family and neighbors.
As presenters introduced the program, they said, "While we think of a better tomorrow, we need to disrupt the systems that keep us from achieving liberation today. As you watch the dialogues, please do your best to listen to understand. See these new perspectives as a gift."
Maya Rodriguez '19 spoke for 7-year-old Guatemalan migrant Jakelyn Caal Maquin, who died in US Border Patrol custody in 2018, while Maya Principe '19 represented Jeanne Wakatsuki, also 7 when she was taken to a Japanese internment camp in 1942 after the bombing of Pearl Harbor. Miki Martin and Madeleine Charity, both '19, stood in for 1968 Olympic athlete Tommie Smith and NFL player Colin Kaepernick, who both sacrificed their athletic careers and were condemned for lack of patriotism when they silently protested to demand social equity.
The student-run multimedia presentation honoring Dr. King's legacy involved spoken word, poetry and song, interspersed with relevant terminology, data and statistics about racial, cultural and economic inequities. Presenters also proposed resources, organizations and solutions to break cycles of oppression, racism and xenophobia. "Race and racism are rooted in history and have been used by society to further economic and political goals. Racism is embedded in the fabric of our society, nation, institutions, relationships, and even ourselves, and impacts access and opportunities," they said. They encouraged fellow students to create change, saying, "You can also work for racial equity by doing your own listening and learning, using your voice to disrupt racial jokes and stereotypes, and using your power to point out and fight against racial inequities when you see them."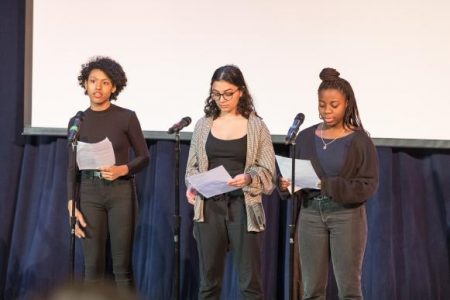 Miki Martin '19 sang "Lift Ev'ry Voice and Sing" (a.k.a. the Black National Anthem) and Sophie Streeter '22, Angelina Gomes '19 and Saffiyah Coker '20 closed with a reading of Langston Hughes' "Let America Be America Again."
O, let America be America again—
The land that never has been yet—
And yet must be—the land where every man is free.
Dean of Diversity and Inclusion Erica Pernell said, "This assembly is so important because we need to share stories that show us how our current challenges are reflected throughout history. Fear and dehumanization of people of color is not new and it's important for students to understand that they can play a role now in ending the evils that plague our society. By bringing figures like Tamir Rice and Emmett Till to life, we remember that this work is never-ending."