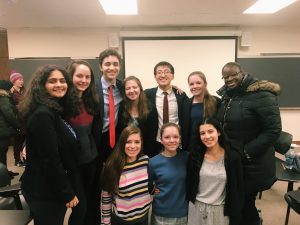 When Olivia and Grace Hayward '21 moved from New Jersey to Boston a year ago, they instantly felt Nobles would be their new home. "Ever since, we have taken advantage of every opportunity Nobles has offered us and made some of the best friends we have ever had." But the twins have also created a unique opportunity for others at Nobles—one they brought with them from Kent Place School, their former alma mater.
"Kent Place has a signature program called the Ethics Institute run by Dr. Karen Rezach. Starting in middle school, students take ethics electives, attend ethics summer programs, and take part in ethics discussion groups at lunch." The Haywards attribute their love of ethics to Rezach's program. "She was the kind of teacher and leader who made you want to learn more and challenge yourself to think more deeply about issues that had real-life applicability and relevance. She made us also think more deeply about our values, so that we put an ethical lens on not just the material we were talking about during discussions, but more broadly in our lives." Although it was difficult leaving their old school, the twins' ongoing commitment to the pursuit of ethical learning eased the transition. "Bringing our passion from Kent Place to Nobles was one of the first things we hoped to do to link our old life with the new one that we hoped to build at Nobles. We wanted to engage other people in ethical discussions the way Dr. Rezach had with us."
As new ninth graders, they found Provost Bill Bussey to be very supportive of their ideas; the positive response they received after presenting their initiative in assembly encouraged them to go forward. "Last year we set the foundation for what ethics is, how you can apply an ethical framework to problems, and how to have ethical discussions," the Haywards explain. Their goal for 2019 was to compete in the New England Regional Ethics Bowl hosted by Tufts University, a stepping stone to the National Ethics Bowl hosted by the University of North Carolina.
The core group met during X-block, on weeknight evenings and Saturday mornings to prepare 16 ethical cases on substantial, multilayered topics for competition. Each member presented a case to the team, who collectively helped discuss and dissect the case further. They then prepared presentations on their stance for each case, knowing that they would also need to excel at organizing and delivering a persuasive presentation. The Ethics Bowl competition team included five competitors and five research assistants from Classes IV-II.*
"We cannot say enough about the dedication of our team members. We found students who felt as passionately as we did about having these conversations and taking the time to do the outside research that was needed to really understand the issues at hand," the Haywards say.
They are also grateful for the guidance of club advisor, College Counselor Kimya Charles. "Ms. Charles was with us from day one," the Haywards said—from freshman-year meetings to guide them through the logistics of having a club at Nobles, to helping them register for the Ethics Bowl and think through the issues. Since Charles was new to the world of ethical debates, she learned alongside the students. As a fledgling program, the Ethics Club lacked a content expert in ethics or philosophy to coach them, but appealed to the Haywards' mentor, Dr. Rezach, to review their case stances, preparation videos and outlines.
The Haywards feel optimistic about next year. "Having Ms. Charles with us at the competition meant so much because now she knows how the competition is run, the level of preparedness of our competitors and the areas where our team can get stronger. We all feel more confident about what we need to do next as we think about next year." Charles says she is "Super proud of the consistent hard work and enthusiasm with which they approached this bowl in the weeks and months leading up to it. They worked incredibly hard and also had a great deal of fun wrestling with some pretty complex issues, and it was awesome to witness!"
So what's next for these philosophers? They are already planning for the national competition, and reaching out to  teams they met at Tufts to arrange scrimmages and learn from each other. "As a young team, comprised mainly of freshmen and sophomores, we have a few years to grow together," they point out.
"We would love to get more teachers involved in helping us take our thinking to the next level. Helping us with the philosophical theories and ethical analysis is really how we can improve. The theories of utilitarianism, consequentialism and virtue ethics only can take us so far." They hope to invite Dr. Rezach to share with Nobles students the Ethical Framework she developed at Kent Place. Ideally, they say, she would present, conduct mini-break out sessions and develop a Nobles-Kent Place partnership for ethical learning.
"Throughout our daily lives, we are constantly faced with ethical dilemmas. Our discussions help us to understand what values are important to us and then we can lay those on top of the problem at hand to logically take apart the problem and determine next steps. With this ethical framework in mind, we, and all students on the team, can better approach problem-solving in class, competitions and life," say the Haywards.
*2019 New England Regional Ethics Bowl Competitors
Olivia Hayward '21
Grace Hayward '21
Anna Perez '21
Xavier Welch '21
Ernie Zhang '22
Also involved
Aileen Feliz '22 – alternate
Sophia Lowry '20 – research assistant/spectator
Danielle Frankel '22 – research assistant/spectator
Sofia Samuels '22 – research assistant/spectator