On September 19, French language faculty member and cross country coach Mark Sheeran ran from the Massachusetts State House in Boston to the Rhode Island State House in Providence—45 miles—to raise money for Lazarus House in Lawrence, Mass., which provides food, clothing, housing and work preparation to people living in poverty.
"To give this some context, the route is the distance from the front door of Shattuck to Lawrence's City Hall," says Co-Director of Diversity, Equity and Inclusion (DEI) Edgar De Leon '04. The epic run was part of a new DEI initiative to raise community-wide awareness and funds to support the work of Lazarus House and to build another connection with the Lawrence community. The Nobles-Lawrence connection is significant not only because of students, graduates and faculty members from Lawrence, but also Nobles' longstanding commitment to Upward Bound, which also serves students from Lawrence.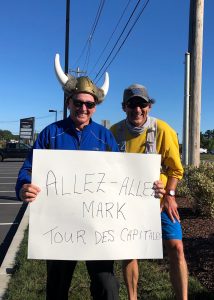 The day of the run, Sheeran reported to former student and Yankees devotee De Leon, "I did the run today and all went well. Poetically, for you, it took me seven hours and 14 minutes. Since you are an erstwhile Yankees fan, the Bambino's home run total was on my mind and I landed right on target." Modern Language team member Meg Jacobs joined Sheeran at mile 20 to run a few miles, and colleague Nick Nickerson and his wife Betsy cheered him on at mile 28.
De Leon and Sheeran came up with the idea this summer when Sheeran wanted to leverage his running for a meaningful cause, one tied to Nobles but also to a partner community. Loyal Lawrence native De Leon suggested Lazarus House. Sheeran, who helped load food trucks throughout the summer for Upward Bound and Achieve programs for under-resourced students, was immediately keen on the idea.
Since 2002, Sheeran has completed countless runs ranging from 31 to 100 miles, but until now, has been "very private" about his running. He also says, "I don't like to ask people for money." But this summer, he was overcome by a need to act.
At this point in time, it's George Floyd, it's Breonna Taylor, Black Lives Matter, the political unrest in this country, the racism. You try to figure out ways you can do good and help, you can protest, lean in and listen; I believe in all that.
"At this point in time, it's George Floyd, it's Breonna Taylor, Black Lives Matter, the political unrest in this country, the racism. You try to figure out ways you can do good and help, you can protest, lean in and listen; I believe in all that. I thought, 'How can I do something without alienating people or causing tension—act, and not offend? Do I have any skills? One thing I can do is run.'" Sheeran realized he could parlay his running into something that could benefit others.
"I wanted to direct a community-based initiative to involve faculty and staff—we talk a lot and don't do a lot. I hope that moving forward, we continue to strengthen ties with Lazarus House through other opportunities and with the Lawrence community," says Sheeran. In an appeal to colleagues, De Leon wrote, "During these difficult times, housing insecurity is more prevalent and access to food is even more of a challenge." He says representatives from the Lazarus House are amazed by the donations from Nobles employees, as unprecedented numbers of Lawrence families show up daily needing food. As of September 29, donations of $2,521 have been matched, for a total of $5,042.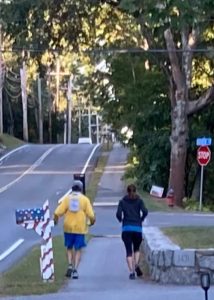 "The bottom line," adds Sheeran, "is that food and housing insecurity are so severe right now, especially with Covid and the systemic racism in our country. It's incumbent on those of us who can, to do, with a community we're already connected to in some way. If Edgar didn't teach at Nobles, I wouldn't have done this. I'm crazy about the guy. I taught him. It's a personal thing. When the horrible gas explosion happened in Lawrence in 2018, people lost homes, and lives. When people talk about change, it needs to start at the community level and build out from there. We have connections to Lawrence through our students, faculty, the summer program we support—it's part of our community, so we need to make our community better."
Sheeran talked about the sense of security he feels as a white male running early in the morning, a luxury that women and people of color don't take for granted. When asked what fuels his runs, Sheeran says, "It's all about gratitude—having a spirit and a body that can do this, knowing there are all these people who may or may not want to do what I'm doing, but couldn't. During a low point during a challenging six-mile section on route 1, I kept thinking of the people at Lazarus House. They don't know if they'll have dinner tonight. My wife is going to meet me at the end with a sandwich. When I run races and get really down, I know it's a privilege to be in this position. I use that privilege to run."
Learn more about Lazarus House. If donating, please indicate "Nobles for Lazarus House" in the memo section to help track funds raised by the community.