Nobles is a proud member school of Global Online Academy (GOA).
Through GOA, Nobles students join peers in online classrooms. It's another way for our students to pursue their passions and learn independence.
It's where they receive the same top notch teaching they're used to on campus, but with more flexibility and expanded course offerings
.
Read through their reflections below to learn more about GOA at Nobles.
I feel like taking a GOA course has provided me with a certain skill set that I wouldn't otherwise be able to find. There's something special and different about taking a class online with students from all over the world; it gives me insight to different cultures and perspectives that I probably wouldn't get until maybe after college! I'm absolutely thrilled I'm taking a GOA course, and not just because I love learning about the role of gender in our society in my gender studies class, but because it gives me a lot of great lifelong tools.

Gender Studies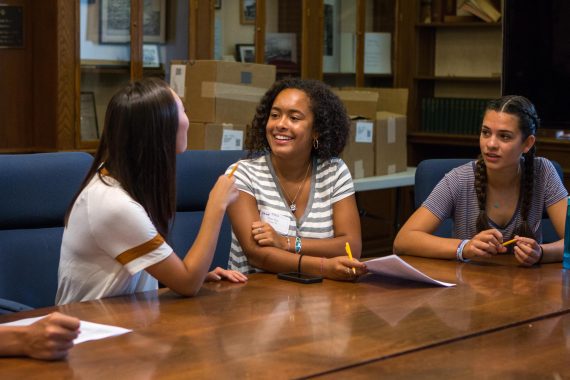 The basis of my course was learning about philosophies and applying them to modern issues such as drone warfare, designer babies, and the opioid crisis. We pondered: what would Aristotle say about this? Descartes? Nietzsche? I engaged in a discussion with other high schoolers from over six countries and learned how their cultures impacted their beliefs. This course tied together the past and the present while addressing scientific, social, and economic topics. This is one of the most eye-opening courses I have taken.

Applying Philosophy to Modern Global Issues
The Intro to Psych course was a great program that gave me a foundation of the basics of psychology. Because I had never taken a psychology class, I learned a wide variety of new things, and now I feel much more confident to go into a college level psychology course next year. Not only did I learn a lot, I also think I gained some new skills such as collaborating with people online and having to be more independent and stay on top of my assignments. I think taking this GOA course is a great way to learn about something you're interested in, while meeting people with diverse perspectives, and gaining skills that you would not acquire through a class taught at school.

Introduction to Psychology
I had so much fun learning the skills that real doctors use to research, diagnose, treat and interact with their patients. I got to know people from around the globe who were interested in the same subject as I am. We did group projects where we collaborated on case studies that ranged from patients with heart arrhythmias to coronary artery disease to a torn ACL. This course was one of the most interesting classes that I have taken. I would very much recommend taking a GOA course to interact with new cultures and people while learning something you are passionate about in a new environment.

Medical Problem Solving I
"One of my favorite parts of the course was the final project where we were given a set of information about a "client" and we were asked to curate a set of ETF stocks and bonds with projected returns that would allow the client to buy a house in 5 years and give a professional presentation on our portfolio. I think the best part of GOA is that you are truly learning what you want to be learning; because this was something I was already passionate about, it was felt easier to do the readings and the homework. 

Introduction to Investments
Meet More GOA Students
See the video below to meet students from other independent schools taking courses on Global Online Academy.