Sam Flood '79 accepted the 2018 Distinguished Graduate Award in assembly on October 9. The following are details on his life and the award.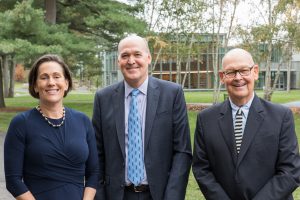 A Dedham native, Samuel E. Flood '79 attended Noble and Greenough School and graduated from Williams College in 1983. At Nobles, he played baseball, he was part of the 1978 ISL championship football team, and to no surprise, played hockey.
Sam is being honored as the 2018 Distinguished Graduate for his work as the executive producer and president of production for NBC and NBC Sports
Network. In these roles, he has demonstrated notable excellence in a chosen field of endeavor and unquestioned character—part of the criteria of selection for the award. Sam oversees all aspects of sports production for both networks and, as of 2018, is a 29-time Emmy Award winner and three-time Eclipse Award winner. As executive producer, Sam produces NBC Sports and NBC Sports Network's coverage of some of the greatest spectacles in the world of sports: Sunday Night Football, NASCAR, Premier League, Horse Racing's Triple Crown, IndyCar, Tour de France, French Open, and Rugby among others.
A hockey player at Nobles and a captain at Williams, Sam began his love affair with sports at a young age, growing up in Boston with access to endless sporting events and surrounded by enthusiastic fans. In college, he immersed himself in sports. "When I got to Williams, I was able to be on the radio doing baseball games and football games, and in between I played hockey," he explains. While the majority of his fellow graduates took on more traditional careers, Sam sought out a markedly different route as an Olympic researcher for NBC Sports.
Over time, Sam has become one of the most influential figures in the sport of hockey and in televised sports in the U.S. He is credited for creating the "Inside the Glass" analyst position, which allows viewers a unique perspective into what is happening on the ice: from home, fans are able to hear what the players and coaches are actually saying and experience the game much more intimately. In 2016, Sporting News named Sam Number 39 in its list of the top 50 most influential people in sports and that same year, USA Today named Sam Number 15 on its list of the most important people in hockey.
In 2010, Sam was promoted to executive producer for NBC Sports following 24 years of service to the network. Climbing up from Olympic researcher to coordinating producer, Sam is only the seventh executive producer in NBC Sports history. With the 2018 PyeongChang games most recently, Sam has worked on 15 Olympic Games since his first Summer Olympics held in Seoul, South Korea in 1988, for which he won a writing Emmy. Since then, he produced Olympic track and field during the 1996 Atlanta Games, 2000 Sydney Games, 2004 Athens Games, 2008 Beijing Games, and 2016 Rio Games and produced the daytime studio show at the Vancouver, London, Sochi, and Rio Games.
Through his work with the Olympics, Sam has brought global attention to competitive sports for being positive and celebratory. In an article written for Nobles magazine in 2013, Sam explains his view on why the Olympic Games are so popular: "I think the Olympics are one of those rare television events left in America where the family comes together to view together," he says. "Multiple generations sit in front of a television to consume the Olympics and are told a story of some athletes that, three months earlier, they wouldn't care about or know about. But when the Olympics are wrapped around that, and those rings are up on the screen, it becomes bigger than life and a special moment to share." Sports and television are multifaceted and dynamic industries, but Sam believes that relationships are essential to success in both. "In the end, you learn in any business, it's all about the relationships. I learned that at Nobles, that having relationships makes it all happen… You learn the leadership skills that carry over and motivate and push people to do things the right way."
Before the 1988 Summer Olympics for NBC Sports, Flood was a writer and researcher for Turner Sports during the network's coverage of the 1986 Goodwill Games in Moscow, Russia, and concurrently, an associate producer for CNN Sports Tonight.
Sam and his wife, Jane, reside in Ridgewood, New Jersey, and have two children, Eliza and Sam, Jr. A third generation Nobles graduate, Sam's family is also well known to the school. His father, Richard T. Flood Jr. '53 was the Dean of Students and his grandfather, Richard T. Flood '23 was on the faculty from 1928 to 1971 with the exception of four years in the Navy. Dick Flood was the assistant to Head of School Eliot T. Putnam, and was the recipient of the 1971 Distinguished Graduate Award.
In recognition of his contributions to televised sports, to the world of hockey and to the Olympic Games, the Noble and Greenough Graduates Association honors Samuel E. Flood '79 with the 2018 Distinguished Graduate Award.