Office of Sports Medicine
Office of Sports Medicine
Athletic Training
The Nobles athletic training room is a health care facility available to the entire Nobles community to receive treatment, care, and preventative assistance as well as rehabilitation for activity related injuries. The athletic trainers are responsible for providing services in an attempt to maintain the athlete's level of competition to its highest degree.
Taping
The taping area is probably the busiest area of the training room. Each sport has equal access to this area and order is usually established by a simple first-come-first-serve basis. Occasionally, preference will be given to those athletes who need to get to a contest over those who need to get to practice if there is a tight time line.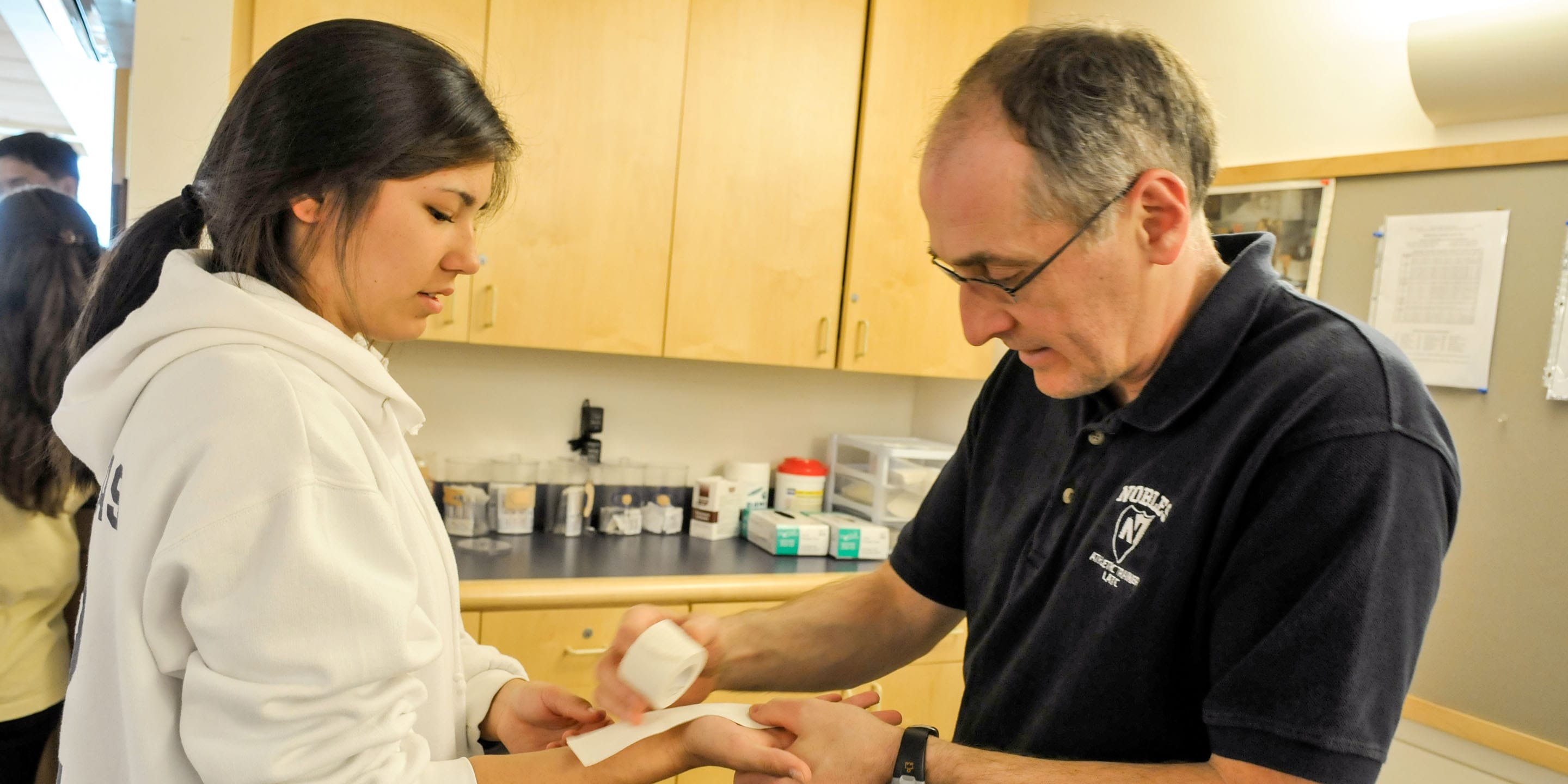 Evaluation
Student athletes who enter the athletic training room, for either an injury evaluation or to work on returning to competition from an injury, will often times start on one of the seven tables in our evaluation and rehab area.
Injury evaluations take place after all teams have been taped and prepared for practices and games. This is to ensure that proper time can be taken without interruptions. Emergency cases will always take top priority.
Sports Medicine
Nobles' Sports Medicine Department believes in a philosophy of compassionate care for all its student athletes.
The Office of Sports Medicine is comprised of the director of sports medicine as well as one full-time athletic trainer, and various part-time/per diem athletic trainers who help cover the schools various on-campus events. All athletic trainers are nationally certified and licensed by the Massachusetts Board of Professional Licensure. The certified athletic trainers work under the supervision of the school's team physician as well as affiliated orthopedic practices. The mission of the Office of Sports Medicine is to provide the highest quality care to the entire Noble and Greenough School community.
The sports medicine staff will work closely with the coaching, strength and conditioning, and outside medical staff to provide an appropriate treatment and rehabilitation plan for every student athlete who requests our assistance. Effective communication between the Office of Sports Medicine, student athlete, coaching staff, parents and outside medical providers allows the student to be returned to activity as quickly and safely as possible.
We are committed to providing medical coverage to participants in the athletic and afternoon programs under the following domains as established by the National Athletic Training Association (NATA) and Board of Certification (BOC):
Injury/Illness Prevention and Wellness Protection
Educating participants and managing risk for safe performance and function.
Clinical Evaluation and Diagnosis
Implementing standard evaluation techniques and formulating a clinical impression for the determination of a course of action.
Immediate and Emergency Care
Employing standard care procedures and communicating outcomes for efficient and appropriate care of the injured.
Treatment and Rehabilitation
Reconditioning participants for optimal performance and function.
Organizational and Professional Health and Well-being
Understanding and adhering to approved organizational and professional practices and guidelines to ensure individual and organizational well-being.
Sports Medicine Relationships
Nobles is proud to have built affiliate relationships with two of the top hospitals in the country: Boston Children's Hospital and Massachusetts General Hospital. In the event of an emergency or need of an office visit due to a lingering injury, the Nobles' Office of Sports Medicine will work with the appropriate physician to assist you with getting an appointment as soon as possible – often within 24 hours.
If rehabilitation is necessary the sports medicine staff will work closely with the physicians and outside medical team to support you through your recovery.